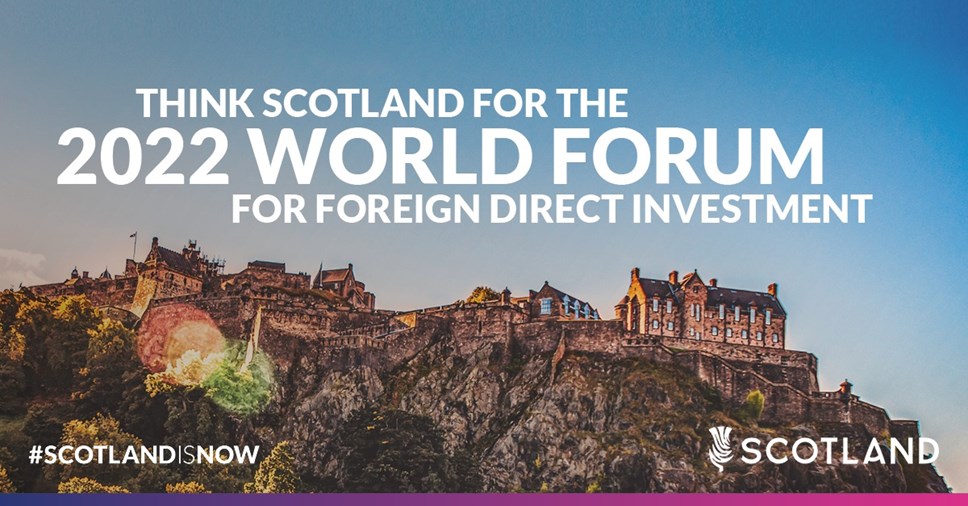 Scotland's inward investment strengths & values to be globally showcased
World Forum for Foreign Direct Investment (FDI) arrives in Edinburgh
Hundreds of delegates will gather in Edinburgh as an international event highlighting Scotland as a world-leading destination for investment and business location begins today (Monday, 9 May).
International site-selectors, industry leaders and policy makers will attend the 2022 World Forum for FDI at the Edinburgh International Conference Centre to discuss the latest insights, trends and developments regarding corporate expansion strategies and global investment.
Scottish Development International (SDI) worked closely with event organisers to bring this event to Edinburgh, providing a valuable opportunity to showcase Scotland's ongoing ability to attract cutting edge/innovative/world leading international projects, with the country continuing to be the most attractive location in the UK outside of London for Foreign Direct Investment.
The event will also provide a unique global platform to share Scotland's commitment to having a values-led approach to secure inward investment, which centres around a fair, sustainable and inclusive low-carbon future.
Adrian Gillespie, Chief Executive of Scottish Enterprise, said: "We are thrilled to welcome so many delegates from across the world to Edinburgh for the World Forum for FDI, the first time this event has been hosted in Scotland.
"This is a fantastic opportunity for us to promote Scotland and for our international audience to see and hear at first-hand what we offer as a leading investment destination. We will generate valuable global connections over the next few days and further increase Scotland's stature as a location for inward investment.
"The combination of our world-class workforce, leading universities, supportive business environment, amazing natural resources and the unparalleled quality of life on offer here makes Scotland an incredible proposition to global companies. We cannot wait to share that story, and our commitment to a values-driven approach to attract investment, to all of those attending the 2022 World Forum for FDI."
The Forum, organised in partnership with US firm Conway Data, will feature panel discussions on sectors critical to Scotland's economy, such as a Just Transition, Health Tech and Software/ Digital Industries, alongside conversations about global issues, such as COVID-19 and international talent attraction, and their impact on investment levels.
Senior representatives from some of the leading companies based in Scotland, including Intelligent Growth Solutions (IGS), Celtic Renewables and EY will provide contributions to the event, as will Scottish Government Trade Minister Ivan McKee, who will open the forum.
Mr McKee said: "Scotland's economic potential is huge, and as set out in our National Strategy for Economic Transformation, we want to build on that potential to make a world-class entrepreneurial nation, encouraging entrepreneurial activity in every sector of our economy.
"Foreign direct investment is a key driver for economic growth, creating a more open and outward facing economy. This Forum provides a unique opportunity to ensure Scotland works with like-minded countries and investors to promote a wellbeing economy and rise to the challenge of the climate emergency."
Also at the event, SDI will be unveiling a series of new 'extended reality' investment propositions to promote strategic investment sites in Scotland. The new proposition films will support its investment attraction strategy by allowing investors to really see for the first time what their project might look like in Scotland.
The extended reality approach combines 360-degree video footage, CGI and compelling images to create a fully immersive video experience which visually communicates the assets, talent, connections and infrastructure which will help investors to see a future in Scotland.
Contact Information
Robbie McGregor
Notes to editors
Inward investors constitute just 3% of Scotland's businesses, yet are responsible for:

34% of employment (624,000 jobs)
50% of turnover (£119.6 billion)
63% of business R&D
77% of exports (£24.2 billion)
SDI has dedicated specialists based in more than 30 locations around the world and alongside Scotland's prestigious international networks, such as GlobalScot, promote the country as an ideal place for companies to locate.
Scotland's international trade and investment agency focuses its activities on delivering projects in opportunity areas where the country is a genuine world leader. These sectors include low carbon transition, digital, health and life sciences and high value manufacturing.