30 November 2017
Scots business owners launch a 'Scottish success story' on St Andrews Day.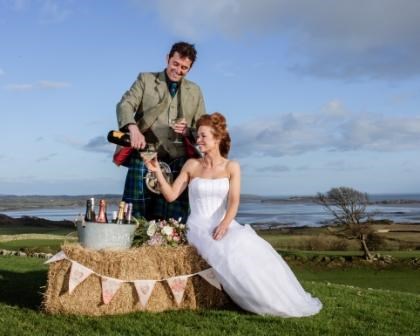 Scottish business owners, Duncan and Vicki McConchie from Gatehouse of Fleet in Dumfries & Galloway today (Thursday 30 November) officially opened their £1.9 million investment project, GG's Yard, a 'Rural Venue of Excellence'.
The new corporate and wedding events business is expected to inject *millions into the South West Scottish economy and there is already positive evidence of an early business boom in the area.
Local accommodation providers are reporting a significant knock-on effect to their bed nights as a result of more than sixty wedding bookings already taken at GG's Yard. The venue took 18 months to complete meaning bookings to date have been based solely on its conceptual designs and exceptional customer service, with couples from as far as New Zealand and Australia keen to snap up a new, rural Scottish wedding experience when tieing the knot.
One local hotel is already full and is expanding upon their own property to cope with demand, supplementing the ten individually decorated, luxury 'snugs' already offered at GG's Yard. New B&B start-ups have also begun to emerge with locals keen to take advantage of the influx of new business coming to this idyllic Scottish seaside location.
The new business venture has created 30 new jobs in Dumfries & Galloway, a region historically challenged with low employment. The £1.9 million investment has been supported by Scottish Enterprise and Dumfries & Galloway Council and a rigorous recruitment drive has required staff to complete a tailored, intensive training programme to providing customers with consistent, world class service.
Around 100 invited guests, including Rugby Union player, Doddy Weir, public and private stakeholders will attend a glittering, grand opening ceremony to take place on the evening of St Andrews Day. 'GG' is Great Granny McConchie, aged 98, possibly the world's oldest zip wire enthusiast, who owns the original steading converted by her entrepreneur grandson and his wife, will officially launch the opening of GG's Yard. The evening will include speeches from the business owners, a gourmet dinner, spectacular fireworks and screening of new ariel footage promoting the new business which will form part of the new business marketing package.
The stunning coastal events venue was previously a 250 year old farm steading which spans 1100 square metres and is located on a hillside boasting some of the most enviable seaviews in Scotland. The original court yard is now covered by an attractive new extension and pitched, glass roof uniting the former outbuildings creating one complete structure. Smaller reception rooms are accessed from a main hall with a total capacity of 200 seated and 350 people for evening receptions.
Rustic interiors combine original features, old stone walls and wooden beams, with huge glass windows, bifold doors and modern cladding. The collective elements of old and new complement each other and create a contemporary classic feel, capitalising on the historic charms of the property as well as offering exquisite, modern comfort.
The McConchie family have farmed the 1,100 acres of land at Laggan for 106 years and currently four generations live onsite welcoming visitors and guests with a unique family-run feel to their business. Authenticity, adventure, warmth and personality are very much part of their brand which they believe will appeal strongly to larger group bookings as well as smaller, more intimate parties.
Duncan/Vicki McConchie, Owners of GG's Yard, said;
"We are absolutely thrilled to launch GG's Yard this St Andrews Day as we believe this will be a great Scottish success story. We firmly believe this incredible, purpose-built events venue is one of its kind in the country because of its location and rustic appeal, offering such personal attention and we are delighted to already have bookings from within the UK and overseas!
"We look forward to working closely with local suppliers to put Scotland on the map for large-scale events in a rural location and make this a success story for everyone!"
Iain Scott, chief financial officer at Scottish Enterprise, who will attend the opening, said:
"The whole team at Laggan has worked exceptionally hard to take the business to the next level, which has included taking advantage of Scottish Enterprise support such as our Rural Leadership Programme. GG's Yard is a fantastic addition to the local area, which will open up a new range of opportunities in areas such as corporate and international conferencing."
VisitScotland Regional Director Paula Ward said:
"The opening of this unique events space is an exciting addition to the business market in Dumfries & Galloway, as well as Scotland as a whole.
"Dumfries & Galloway currently attracts more than 40,000 business trips from the UK and around the world. The addition of this superb events and conferencing space is sure to put the region on the business events map. In fact, we have already seen the first success with confirmation that the International Adventure Conference will take place at Laggan Outdoor in 2019.
"Scotland's reputation as a quality destination for visitors and businesses, relies on continued investment and innovation to ensure that current provision meets future demand. I wish the team at GG's Yard and Laggan Outdoor Activity Centre the very best with their latest venture and it is great to hear that they have already received interest from around the world."
For more information on GG's Yard at Laggan Outdoor visit www.ggsyard.co.uk
-ENDS-
For more information, interviews and pictures contact:
Sharon Makepeace, Makepeace Marketing & PR sharonmakepeace@gmail.com
Tel: 07711 826 885 or Duncan McConchie duncan@lagganoutdoor.co.uk Tel: 07966 506 873. Twitter; @ggsyard
Notes to editors:
*The economic impact is £1,500,000 per year from guests coming to the area, staying, eating, playing while here for a wedding. This figure has come from HITCHED, which states that an average of 96 guests per wedding spend on average £23,000 additionally. Average bookings at GG's Yard is 110 guests.
GG's Yard at Laggan Outdoor - McConchie Family Biog:
The business couple, Vicki and Duncan McConchie already run a successful outdoor activity operation - Laggan Outdoor Activity Centre – A Scottish Thistle Award Winner, which attracts 15,000 visitors annually and employs 13 people full time and 30 part time in peak season. The McConchies have made several significant investments made over the past few years including the introduction of Europe's longest zip wire in 2012 and the UK's first Human Slingshot in 2015.

*Business Tourism Facts & Figures can be found on;
http://www.visitscotland.org/pdf/Tourism_in_Scotland_Regions_2016.pdf
Facts on Business Tourism in Scotland
2.16m business trips were made to Scotland in 2015
Business tourism was worth £704m to Scotland in 2015 and accounted for 16% of the total tourism expenditure to Scotland
Spend per night by business visitors is 1.5 times higher than that of leisure visitors
The largest overseas tourism markets for Scotland in 2015 measured by volume of trips were USA, Germany and France. In terms of spend they were USA, Germany and Australia
Sources: http://www.visitscotland.org/pdf/TourisminScotlandFactsheet2015.pdf
Scottish Enterprise
is Scotland's main economic development agency and aims to deliver a significant, lasting effect on the Scottish economy. Our role is to help identify and exploit the best opportunities for economic growth. We support ambitious Scottish companies to compete within the global marketplace and help build Scotland's globally competitive sectors. We also work with a range of partners in the public and private sectors to attract new investment to Scotland and to help create a world-class business environment.
Follow us on Twitter at
http://twitter.com/scotent
Follow us on Facebook at
http://www.facebook.com/scottishenterprise