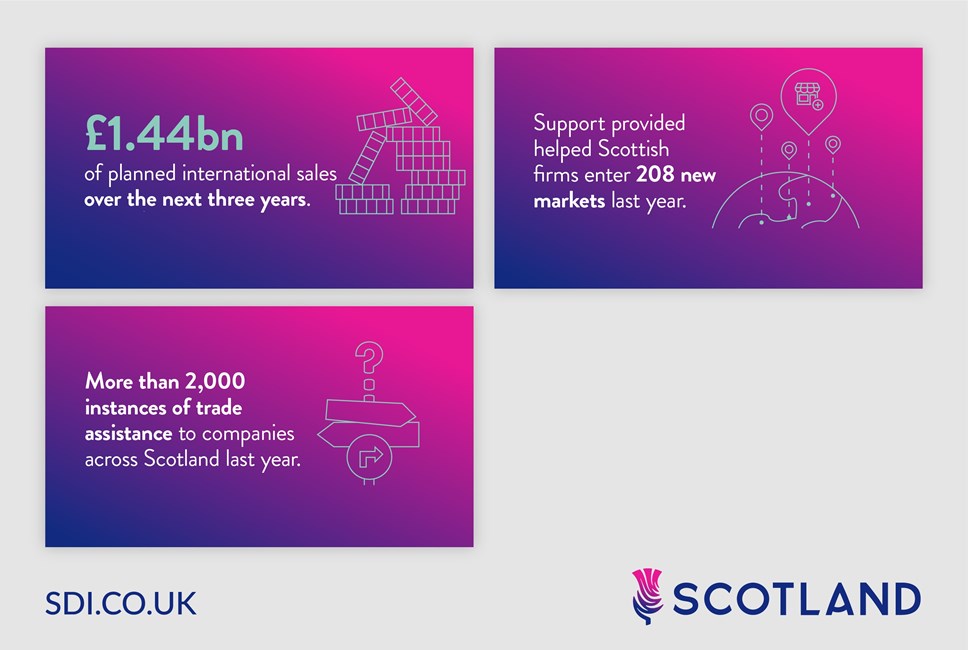 Scottish Development International-supported exporters to deliver £1bn boost to Scotland's economy
Scottish products and services remain in global demand
The benefit of international trade to Scotland's economy has been underscored after new figures revealed exporters will provide a significant boost to the nation's finances.
Scottish Development International (SDI) results show support it provided to companies across Scotland in the past financial year will result in £1.44bn of planned international sales over the next three years.
Scottish Enterprise's international trade and investment arm, SDI supported Scottish firms to enter 208 new markets in FY21/22, with a focus on the United States, China, Germany, Spain and France. As part of this, 176 new products and services left Scotland for these markets last year.
The results, which combine company projects supported by SDI, Scottish Enterprise and its sister agencies Highlands and Islands Enterprise and South of Scotland Enterprise, were announced by Scottish Government Minister for Business, Trade, Tourism and Enterprise, Ivan McKee.
Mr McKee said: "These latest results are extremely positive, and they highlight the demand for Scotland's good and services across the globe. Trade and Investment plays an integral role to help us create new, sustainable jobs and grow our economy.
"The resilience of Scottish businesses over the last few years is testament of the approach set out in our Export Growth Plan – A Trading Nation. Despite the complications of the COVID-19 pandemic and the consequences of Brexit, Scottish companies have been able to export their goods to international markets resulting in over £1.44bn of estimated sales within the next three years.
"We want to make sure that we are delivering on the aims of the National Strategy for Economic Transformation by creating sustainable jobs and growing our economy. International trade and investment plays a major role in enabling us to meet these targets, so it is important that we continue to support Scottish companies in realising key markets across the world."
In total, SDI provided more than 2,000 instances of trade assistance in the past financial year with the bulk of this support through its International Specialists both here in Scotland and overseas in more than 30 locations across the world. These services ranged from tailored trade support for individual firms, to providing businesses with research about international markets and new opportunities, such as e-commerce and introductions to key overseas buyers.
SDI focused its trade activities on supporting companies within sectors where Scotland's greatest export strengths currently lie: Consumer Industries, Science and Technology, and Energy and Low Carbon Transition. Examples of firms SDI assisted over the past year include:
Intelligent Growth Solutions, a multi-award-winning agritech innovator, which designs, supplies and supports vertical farms for growers all around the world.
Verlume, a leader in marine energy management and storage technologies to enable clean, resilient, and integrated energy systems
Boe Gin, an award winning Scottish distillery, which creates small batch gins and vodkas at their premises in the village of Throsk, near Stirling, using rare handpicked botanicals and spices infused in the finest neutral grain spirit
SDI also led delegations at some of the world's biggest trade events in the past year. These included:
Another key part of SDI's Trade support was Scotland's international networks, which promote the country's links with the global economy while also providing Scottish companies with guidance and insights that allow them to trade globally. Activity over the past year included:
In July 2021, Scotland's prestigious international business network GlobalScot celebrated its 20th anniversary. The network, which seeks to develop and expand Scotland's standing in the global business community, continues to go from strength-to-strength and now has more than 1,150 members across the world
Using the Scottish Government's Trade and Investment Envoys as a key part of Scotland's international business network. There are now 11 Trade and Investment envoys, many of whom are also GlobalScots
Adrian Gillespie, Chief Executive of Scottish Enterprise, said: "These are very positive results and show that despite a difficult environment for exporters, Scotland's goods and services continue to be incredibly attractive to global markets and buyers.
"Scottish exporters have demonstrated enormous resilience over the past year to adjust to the challenges they have faced due to COVID-19, Brexit and now the conflict in Ukraine. Our SDI Trade colleagues have been there to support companies every step of the way, providing knowledge, skills and access to our international networks, enabling hundreds of firms to enter new markets overseas.
"Supporting innovative Scottish companies scale up and grow through exports is a priority for us. Not only is this a major contributor to Scotland's economy, an international focus plays a vital role in encouraging the innovation and competitiveness that are essential to our future economy.
"With markets fully opening up and our exporters taking advantage of additional routes to overseas customers, we are positive about future trade opportunities for Scottish exporters. Through our values-led approach, Scottish Enterprise and our partners will continue to do what we can to support Scottish companies grow and develop internationally."
Stuart Black, Chief Executive of HIE, said: "It has been an extremely challenging few years for Highlands and Islands businesses that trade internationally, so these results from SDI are particularly encouraging.
"Our region's businesses contribute significantly to the value of Scotland's exports, which are dominated by sectors such as energy, aquaculture and whisky – sectors where the Highlands and Islands high quality products are internationally recognised.
"We will continue to work with SDI and other partners to help our experienced exporters target new markets, as well as supporting new and early stage exporters to expand their international sales."
Professor Russel Griggs OBE, Chair of South of Scotland Enterprise, added: "These are fantastic results which show that despite the pandemic, trade is a significant part of the Scottish economy, and that companies across Scotland are continuing to trade in international markets. We are already seeing a result of this in the number of inward investment enquiries we are getting in the south of Scotland.
"South of Scotland Enterprise will continue to proactively work with SDI and our Team Scotland partners as we help South of Scotland businesses to grow, and support them in their international trade.
"We will carry on highlighting the importance of international trade and investment to Scotland's economic recovery, as we recognise the huge importance to the region."
As part of its International Operating Plan for FY22/23, SDI aims to deliver further international growth and maximise the impact of its international trade activities. This includes strengthening its engagement with exporters that are best placed to make a significant contribution to Scotland's economic recovery, tailoring support to suit the specific needs of companies.
Contact Information
Robbie McGregor
Notes to editors
International Export Sales is the expected companies' international sales (e.g. to a particular market, as a result of a new product etc) as a result of a project that SDI/SE supported. The estimated additional international exports are validated by the company at that stage and the measure is claimed. There is no minimal value for forecast export sales and the measure applies to companies at all levels of exporting from new exporters making their first sale to existing exporters moving into new markets.
Scotland's international trade and investment agency, Scottish Development International has offices in more than 30 locations in the world. SDI supports the international growth of companies in Scotland and promotes Scottish products and services to international markets. For more information, please visit: https://www.sdi.co.uk/