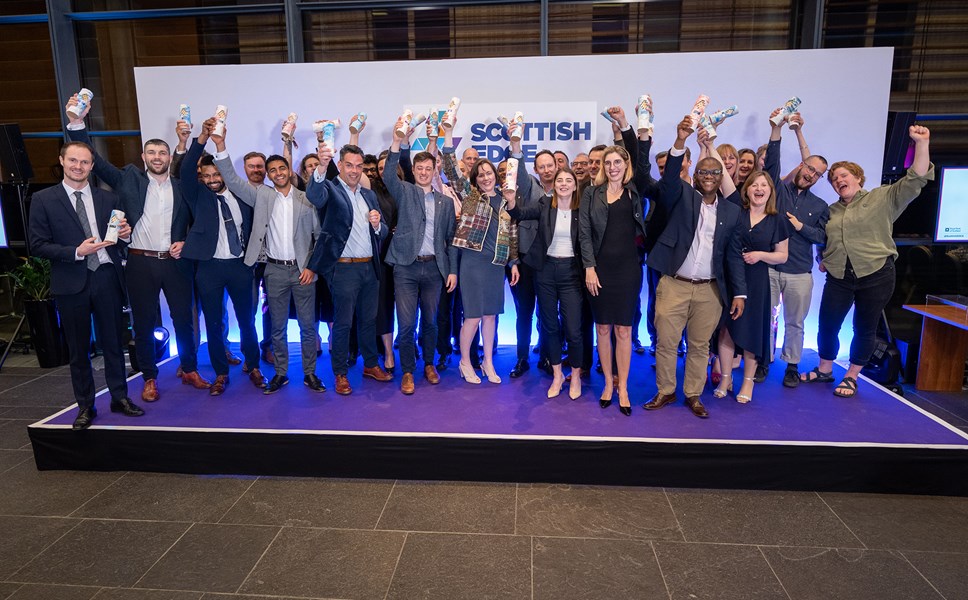 Scottish EDGE gives businesses with entrepreneurial flair a boost of £1.4million
A total of 24 businesses with high-growth potential have benefited to the tune of £1.4million after being named as winners in the Scottish EDGE Round 21 awards.
The awards ceremony took place last night (25 May) an in attendance was First Minister Humza Yousaf and businessman and philanthropist Sir Tom Hunter, as well as entrepreneur and world record holder, Jamie Douglas Hamilton.
Amongst the winners were Glasgow-based Infix Support which won £100,000 towards its Clinician-led, cloud-based scheduling platform that improves NHS theatre efficiency. Clearwell Technology Ltd, a business based in Aboyne which develops exothermic milling systems, also walked away with a prize worth £100,000.
Eight of the prizes went to winners from the Young EDGE Category, where all directors are under the age of 30, with the top Scottish Enterprise prize going to Euro Ticket Club Ltd, which provides flight and ticket offers to British fans of European football. The Institute of Export prize was awarded to LU Innovations Ltd, which creates menstrual products and accessories for adventurers in remote environments. Both winners were recognised for their entrepreneurship with prizes worth £15,000.
Sustainable business practices and a commitment to protecting the planet remain central to the awards. The twenty-first round saw the return of the Net Zero EDGE category, which rewards the efforts of organisations committed to contributing towards the Scottish government's commitment to reaching Net Zero by 2045. North Berwick-based Frontier Robotics, which revolutionises marine robots' sensing and autonomous capabilities, won the Net Zero prize worth £100,000, thanks to additional support from the Royal Bank of Scotland.
Judith Cruickshank managing director of commercial mid-market at Royal Bank of Scotland said: "The time to act on climate change is now and investing in businesses focused on developing solutions through initiatives such as the Net Zero EDGE award is key.
"At Royal Bank of Scotland, we are committed to championing SMEs and each and every one of this year's winners demonstrates the passion, innovation and determination needed to help bolster and strengthen Scotland's economy while also making positive strides towards our climate ambitions. Congratulations to all of this year's winners but in particular, our Net Zero EDGE winner, Frontier."
The Circular Economy EDGE award, which was introduced in collaboration with Zero Waste Scotland and recognises businesses implementing more circular business methods went to Fife-based Seilich, which harvests skincare product ingredients from the organisation's own wildflower meadows. Meanwhile the STV Growth EDGE award, which guarantees airtime went to a consumer-based business, Three Robins, a company creating family-friendly plant-based products, in addition to a financial award of £85,000.
Sharing the accolade of Social Enterprise EDGE winner, Stitch the Gap CIC, which uses sewing tutelage to improve community mental health and environmental impact, and Rhyze Mushrooms, a community mushroom farm and education project, received £50,000 and £20,000 respectively from the Postcode Innovation Trust supported award.
The ceremony marked the final round of the awards for Scottish EDGE Chief Operating Officer Steven Hamill, who has been involved with the awards since their inception in 2013 and has overseen the establishment of partnerships with the Royal Bank of Scotland, the Hunter Foundation, the Scottish Government and Scottish Enterprise.
Steven Hamill added: 'Over the course of the last decade, the EDGE awards have acknowledged the innovation, creativity, and future-centred mindset of over 500 Scottish businesses. With over £20 million having been awarded so far, Scottish EDGE plays a crucial role in giving businesses with high-growth potential the resources to scale and develop their work. It's been an honour to collaborate with partner organisations to form long-lasting relationships and ensure that Scottish entrepreneurship continues to be rewarded'.
Jane Martin, managing director of innovation and investment at Scottish Enterprise said: "Once again it has been great to partner with Scottish EDGE, which plays an important role in nurturing innovative high growth potential start-ups as part of Scotland's fantastic entrepreneurial ecosystem. I'd like to congratulate all of this round's winners, who I am sure will go on to do amazing things both for the Scottish economy and for the benefit of society as a whole."
Contact Information
Press Office