15 January 2019
Scottish EDGE Launches a Follow-on Funding Award for its Winners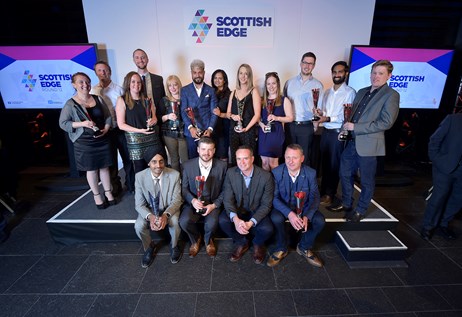 Two previous Scottish EDGE winners will take an equal share of the £200,000 prize fund available to successful applicants of the new Winners EDGE (WEDGE) Award
The follow-on funding competition, which is exclusive to those businesses which have successfully come through Scottish EDGE in any of its 13 rounds to date, comes on the back of a record-breaking pitching round last month, during which just under 40 businesses were awarded a total of over £1.7 million in Scottish EDGE funding.
The recent accelerated growth of Scottish EDGE's impact is the result of a £1 million funding boost from Scottish Enterprise, a percentage of which was set aside to offer additional backing to previous winners.
The shared ambition of Scottish EDGE and Scottish Enterprise in introducing the WEDGE Award is to support entrepreneurs that have maximised the use of their EDGE funding and have the systems and expertise in place to scale or internationalise their business with the right support.
Eligible businesses will have a very traceable history of extending reach and revenue and will be actively in the pursuit of business multipliers. WEDGE will offer two separate awards of £100,000, presented as 60% Loan / 40% Grant, and will focus on Scale-up and International impact.
The Scale-up award will be given to the business that can demonstrate the highest level of Scale-up impact through the support of the award, and the business which demonstrates the greatest level of international impact will take the International award.
The WEDGE application form and assessment criteria is available for download at scottishedge.com/wedge-award and the application window will close on Tuesday 19th February at 2 pm.
An independent panel will review the applications in the First Stage Assessment Process and the top 7 to 10 businesses will be selected to pitch to a panel of expert judges in mid-March, after which the two prize winners will be selected.
Linda Hanna, managing director for Scottish economic development at Scottish Enterprise, said: "It's great news that, with our extra support, Scottish EDGE has been able to launch this new competition, giving previous winners access to further funds for international expansion and scaling-up. With up to £100,000 available in each category we're sure it'll be an exciting and closely-fought competition for these inspiring businesses, many of which are already supported by Scottish Enterprise."
Evelyn McDonald, CEO of Scottish EDGE, said: "Scottish EDGE is experiencing an exciting phase of growth and this new award, and the additional Scottish Enterprise funding which has supported it, allows us to back our winning entrepreneurs beyond the initial funding boost they receive from an EDGE win. Taking a business international or to the growth phase presents very different challenges to those faced at startup level. We are confident that this award will position the winning businesses much more strongly in this crucial stage of their journey.
Full assessment criteria and an application form can be downloaded at: scottishedge.com/wedge-award
[ENDS]
Scottish Enterprise
is Scotland's national economic development agency and aims to deliver a significant, lasting effect on the Scottish economy. Our role is to help identify and exploit the best opportunities for economic growth. We support ambitious Scottish companies to compete within the global marketplace and help build Scotland's globally competitive sectors. We also work with a range of partners in the public and private sectors to attract new investment to Scotland and to help create a world-class business environment.
Follow us on Twitter at
http://twitter.com/scotent
Follow us on Facebook at
http://www.facebook.com/scottishenterprise