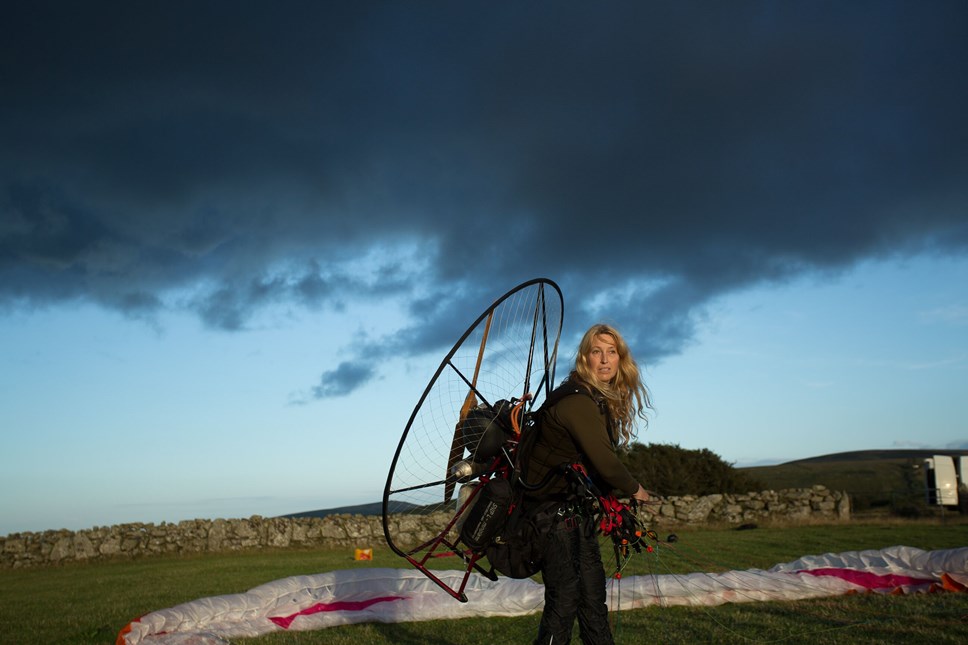 Scottish Enterprise podcasts launch with conservationist Sacha Dench prior to Glasgow electric paramotor take off for COP26
Scottish Enterprise is today (May 19) launching its 'Think Climate' podcasts with conservationist and UN ambassador Sacha Dench as the first guest to appear and who will discuss her record breaking attempt to fly around the UK in an electric paramotor to raise awareness of climate change.
Sacha is an UN ambassador and is famed for her adventures following a journey in 2016 where she followed the Bewick swan's migration route from Russia to the UK and is due to set off from Glasgow next month on a six week trip to talk climate solutions with businesses and communities.
She is the first guest to appear in the 'Think Climate' podcast series hosted by Scottish Enterprise that will hear from experts focussing on key climate issues with a range of inspirational figures across Scotland and globally from the world of business, academia, finance and the environment.
Scotland hosts COP26 in November and each month until the event a new podcast episode will be broadcast covering a range of topics from green economic recovery, to conservation, biodiversity and electric vehicles, such as, Sacha's electric paramotor trip.
The podcast series follows the national economic development agency's commitment to support the creation of green jobs and focus on sustainability within its upcoming Business Plan and Net Zero Framework that will be published soon.
Head of climate enterprise at Scottish Enterprise Martin Valenti said: "The podcasts are aimed primarily at our business customers, but I'm sure they will also be of interest to the wider public given the great range of guests we have lined up.
"The podcasts will highlight the economic opportunities and key issues around climate change, building the case for business optimism ahead of COP 26 and beyond. To launch with an inspiring figure such as Sacha Dench really sets the scene.
"Our 'Think Climate' podcasts are part of a range of Scottish Enterprise projects that are addressing the challenge of climate change, supporting the green recovery and helping Scotland meet its ambitious net zero targets."
The adventurer and conservationist will be meeting people on her paramotor tour as she finds answers to 'Britain drove the Industrial Revolution, can we drive the Green Revolution too?' and the three key themes that will shape her trip are: industry innovation, community and farming.
On the Scottish Enterprise 'Think Climate' podcast she said she was impressed by Scottish enthusiasm and looked forward to the final part of her journey returning to Scotland for the best stories.
When asked what her hopes for COP26 were she said that it was important for businesses to drive change whilst also encouraging them to sign up for the UN's Race to Zero campaign and the TED Count Us In challenge that forms another record-breaking attempt in encouraging participation too.
Sacha said: "I hope companies see the importance of their role in the global story and corporations are inspired by COP26 to really pick up the mantle and drive change forward as we have ten years to shift the economy to a more sustainable one."
Sacha's crew will also travel in electric vehicles, interviewing local people and a compilation of the stories discovered will be presented at COP26 in Glasgow in November.
The 3,000 mile, six-week, climate change awareness tour of Britain will see Sacha attempt to break two world records: to be the first to fly around Britain in an electric paramotor and second is to get a record number of people taking action on climate change via the Count Us In programme.
The 'Think Climate' podcast series is free to download and subscribe to on Apple Podcasts, Spotify and other podcast providers as well as the Scottish Enterprise website.
Contact Information
Elaine Walker