08 November 2018
Scottish Enterprise welcomes new Edinburgh buses from Alexander Dennis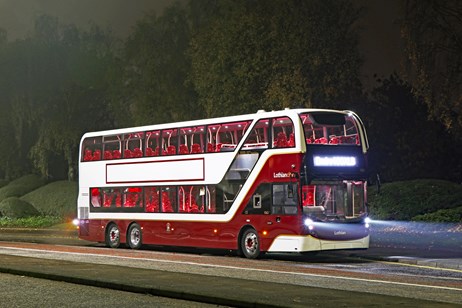 The vehicles were developed in partnership with Volvo and will be used by Lothian Buses
Alexander Dennis Limited today (Thursday 8th November) unveiled its brand new 100-seat Enviro400XLB double-decker bus, developed in close collaboration with Lothian Buses and chassis manufacturer Volvo.
Forty-two of these high-capacity buses will enter service in Edinburgh from January. They are manufactured in Falkirk, securing jobs and adding value to the Scottish economy directly and via the extensive local supply chain.
Guest of honour at the launch was Cabinet Secretary for Transport, Infrastructure and Connectivity Michael Matheson MSP, who was joined by representatives of ADL, Lothian Buses, Volvo, Scottish Enterprise, Transport Scotland and CPT Scotland.
Paul Lewis, MD international economic development at Scottish Enterprise, said: "We have been working with ADL for a number of years and it's great to see such commercial success from the company's investments in new product development, which have been supported by Scottish Enterprise.
"This investment by ADL has helped to open up new international markets for the company as well as supporting opportunities closer to home and is a great example of how innovation and investment can grow our economy. We look forward to the seeing the roll-out of these new buses around the region and will continue to support ADL to look at new markets."
Scottish Enterprise
is Scotland's national economic development agency and aims to deliver a significant, lasting effect on the Scottish economy. Our role is to help identify and exploit the best opportunities for economic growth. We support ambitious Scottish companies to compete within the global marketplace and help build Scotland's globally competitive sectors. We also work with a range of partners in the public and private sectors to attract new investment to Scotland and to help create a world-class business environment.
Follow us on Twitter at
http://twitter.com/scotent
Follow us on Facebook at
http://www.facebook.com/scottishenterprise