23 October 2018
Scottish Enterprise welcomes opening of The Bayes Centre for data Science and Technology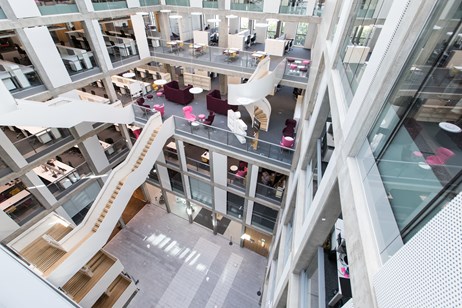 Scottish Enterprise today (Tuesday, 23 October,) welcomed the opening of The University of Edinburgh's Bayes Centre by Her Royal Highness The Princess Royal
The £45m world-leading centre of expertise in data science and artificial intelligence (AI) received £2.7m funding from Scottish Enterprise as part of the wider 'Bayes Innovation Programme'.
The new building is designed to house around 600 researchers, students, and entrepreneurs, and will help businesses and public sector organisations improve products and services through collaboration with researchers and data analysts. It is the first of five data driven innovation hubs being created as part of the recently announced Edinburgh and South East Scotland City Region Deal.
David Smith, Sector Director of Digital and Engineering at Scottish Enterprise, said: "The opening of Bayes offers a unique opportunity for businesses and cutting-edge researchers in data science and systems to collaborate and to create significant economic impact by drawing on this combined pool of talent and ideas.
"Scottish Enterprise is proud to support this increased business development resource, which will give Scottish-based businesses and potential investors the chance to experience the value that such a dynamic environment can add."
Elaine Morrison, Regional Head of Partnerships East for Scottish Enterprise, added: "It is wonderful to see the first data-driven innovation hub from the City Region Deal open its doors. We look forward to continuing to work with all partners, industry and the wider business community on the Bayes Innovation Programme, which we are confident will help cement Edinburgh's place as the data capital of Europe.
"With around 150 companies and a combined turnover of £1 billion, plus world-leading data innovation assets like the University's School of Informatics and a vibrant tech start-up scene, Edinburgh is already well on its way to achieving this ambition."
Scottish Enterprise
is Scotland's national economic development agency and aims to deliver a significant, lasting effect on the Scottish economy. Our role is to help identify and exploit the best opportunities for economic growth. We support ambitious Scottish companies to compete within the global marketplace and help build Scotland's globally competitive sectors. We also work with a range of partners in the public and private sectors to attract new investment to Scotland and to help create a world-class business environment.
Follow us on Twitter at
http://twitter.com/scotent
Follow us on Facebook at
http://www.facebook.com/scottishenterprise