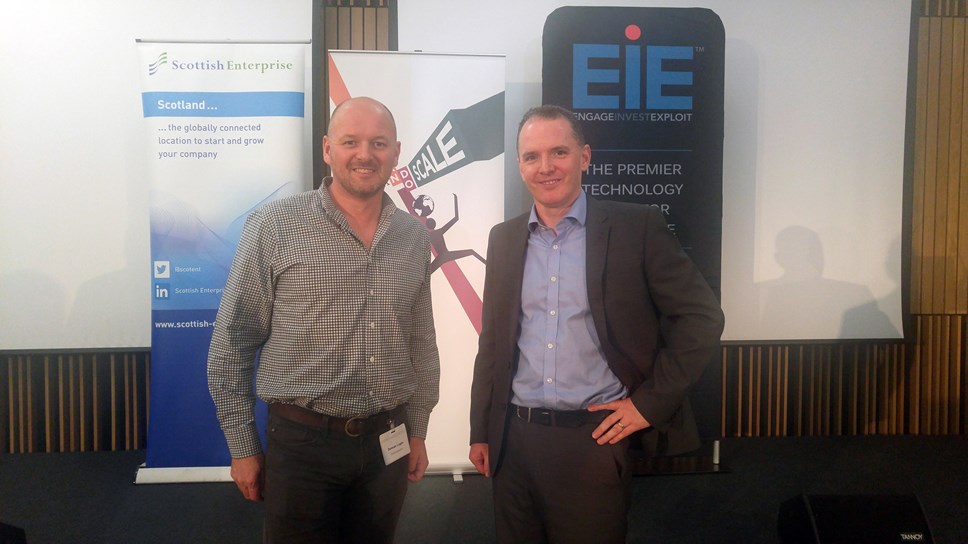 Scottish entrepreneurs set sights on driving greater growth
More than 50 entrepreneurs and key players from Scotland's entrepreneurial community met on Tuesday 15 November, to discuss how to increase the number of companies which grow to scale in Scotland.
The discussion focused on hearing views and experiences of digital entrepreneurs at different stages of growing globally competitive businesses in Scotland and featured the individual stories of three businesses: Shot Scope, Administrate and Soluis. The audience included key Scottish influencers, representatives of organisations passionate about supporting companies to scale up in Scotland and global business leader and Scot, Duncan Logan, CEO of the San Francisco- and London-based Rocket Space co-working accelerator which has supported tech startups valued over $1billion such as Zappos and Spotify.
The discussion aimed to build stronger peer to peer connections within the community and influence further policy development to support Scotland's scale up ambitions.
Adrian Gillespie, managing director at Scottish Enterprise, said: "Scotland has a great track record of growing exciting businesses with global appeal. We are delighted Duncan and our Scottish businesses joined us to share their experiences and decide what we need to do collectively to raise and realise Scotland's growth ambitions in more of our business base."
The event, hosted by Scottish Enterprise at the Informatics Forum in Edinburgh, was part of Scotland's Can Do SCALE programme of activities which aims to accelerate entrepreneurship and innovation across Scotland and reinforce the nation's reputation as a 'CAN DO' place for business.
~Ends~
Notes to Editors
The event showcased three Scottish companies – Administrate, Shot Scope and Soluis
John Peebles, CEO of Administrate
Administrate is one of the fastest growing tech companies in Scotland, providing software that helps training companies and training departments manage their entire business. Administrate's integrated online system focuses on making training administration easier, helping clients deliver outstanding e-learning, and assists them in keeping their website up to date in taking online course bookings.
After leading and scaling a number of tech start ups in the US and China, John joined Administrate in 2011 as COO and has been growing the company as CEO since 2012. Administrate has a mission to be "the ultimate human organisation", introducing innovative working practices such as a four day working week for all staff.
Based in Codebase in Edinburgh, one of Europe's fastest growing accelerators, Administrate is now active in 25 countries spread across four continents.
John intends to continue scaling up Administrate from its base in Scotland and move into international markets with the ambition to become one of Scotland's next tech unicorns.
David Hunter, CEO of Shot Scope
David is the founder and CEO of Shot Scope Technologies, a fast-growing Scottish wearable technology company. Shot Scope's vision is to revolutionise how golfers collect performance data through use of technology that does not interrupt play. Shot Scope works in the background to automatically detect every shot and coverts the data into score, statistic and analytic content that is displayed on desktop and mobile apps.
In the space of two years the company has gone from idea to thriving business with a team of 20 based in Edinburgh and products in 22 different countries. To date the business has raised over £2.5M in funding through investments and support from Scottish Enterprise. Prior to founding Shot Scope David had a varied background that included seven years designing electronics and software for medical, military and industrial markets.
Martin McDonnell, Chairman, Soluis
In 2000 Martin founded Soluis with the aim of delivering best-in-class 3D visualisation and interactive presentation methods. Now, over 16 years later, the Group – represented across three distinct brands; Studios, Interact and Apps – is delivering a growing range of visual media and engagement platforms to businesses operating at all levels of construction and property.
Today, in his role as Soluis' Chairman, Martin harnesses his visionary approach to lead the Group's pioneering work in connecting the latest digital platforms and gaming technologies to the needs of different market sectors. This has led Soluis to be amongst the earliest innovators in bringing the benefits of augmented and virtual reality to the property, design, construction sectors and beyond.
This drive in applying technology to some of the industry's most fundamental challenges has helped guide Soluis to two major innovation competition wins in 2015; scooping one of only three inaugural Higgs EDGE awards at the Scottish EDGE Finals and being selected as one of the winners of the Innovate UK IC Tomorrow contest.
Contact Information
Maxine Finlay
Scottish Enterprise