16 November 2018
Scottish Event Campus (SEC) Submits Planning Application to Create Global Facility for World Class Events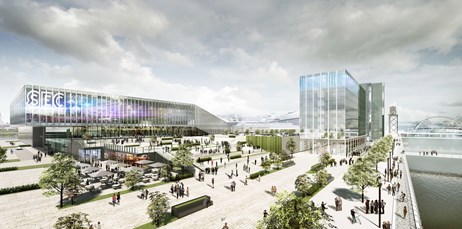 Hot on the heels of the hugely successful development of The SSE Hydro, The Scottish Event Campus (SEC) has applied for a planning permission in principle (PPIP) for a major expansion of its facilities with a vision to create a unique global event campus capable of taking the World's top conferences, exhibitions and events.
The £150-£200m project includes a dedicated entrance to the west of the Campus and additional multi-purpose meeting and circulation spaces with panoramic views of the city and River Clyde. It is estimated that in a mature year the new facilities would generate £300m of economic benefit to the UK of which £123m would be to the Glasgow area and £106m to Scotland. This would be in addition to the £763m of which £400m (for Glasgow) and £227m (for Scotland) is generated annually from the existing facilities. It is estimated that economic payback for the tax payer will be between 5-7 years.
Billy McFadyen, Finance & Development Director, SEC said:
"The SEC currently offers Glasgow and Scotland a solution to stage Conferences of varying sizes. However, competition worldwide is robust and constantly evolving. In order to maintain this level of success we need to invest in our product to ensure we have the best facilities. The plans for this expansion will fulfil this and create a truly unique UK Event Campus which will be world class.
"During the past two decades, Glasgow and the SEC have succeeded in the conference market and strong, city-wide partnerships have been instrumental in securing business. It is widely recognised that events drive immediate economic benefit of scale for cities and countries. Conferences and Exhibitions in particular, provide a catalyst for further long-term economic benefit. The focus now is to secure funding support for the project which will be of significant benefit to Glasgow, Scotland and the UK's economy".
Glasgow Chamber of Commerce chief executive Stuart Patrick said: "The SEC constantly secures a stream of major conferences and is an enormous asset to the city, keeping Glasgow firmly on the world stage.
"But in a highly competitive sector venues must constantly evolve, and this imaginative planned expansion will help ensure the city's share of the conference and exhibition markets continues to grow."
The application is the next step following a previous feasibility study which was carried to establish viable options for upgrading and expanding the campus, principally to facilitate further growth in the Conference and Exhibition sectors. It was also supported by a robust business plan and economic impact study as the rationale for the new facilities.
Ends.
For further information please contact Kirsten McAlonan, Head of PR
Kirsten.mcalonan@sec.co.uk, 0141 275 6215
Notes to Editors
The Scottish Event Campus (SEC) comprises SEC Centre, SEC Armadillo and The SSE Hydro.
It is situated in the heart of Glasgow, Scotland's cultural and commercial capital and is one of the UK's largest integrated spaces, purpose-built for exhibitions, conferences and live entertainment.
Capable of delivering events for two to well over 10,000, SEC Centre has infinite flexibility and includes main meeting hub, the Loch Suite. Combined with the 3,000 seat SEC Armadillo they offer 22,344m2 of event space.
A truly iconic structure, The SSE Hydro hosts national and international music mega stars as well as global entertainment and sporting events. With a capacity of 13,000, the venue stages around 140 events a year.
In the last financial year, the Campus generated a net additional expenditure of over £1m per day in the Glasgow area equating to a total of £400m. The net additional expenditure in Scotland was measured at £227m and in the UK at £136m.
Scottish Enterprise
is Scotland's national economic development agency and aims to deliver a significant, lasting effect on the Scottish economy. Our role is to help identify and exploit the best opportunities for economic growth. We support ambitious Scottish companies to compete within the global marketplace and help build Scotland's globally competitive sectors. We also work with a range of partners in the public and private sectors to attract new investment to Scotland and to help create a world-class business environment.
Follow us on Twitter at
http://twitter.com/scotent
Follow us on Facebook at
http://www.facebook.com/scottishenterprise