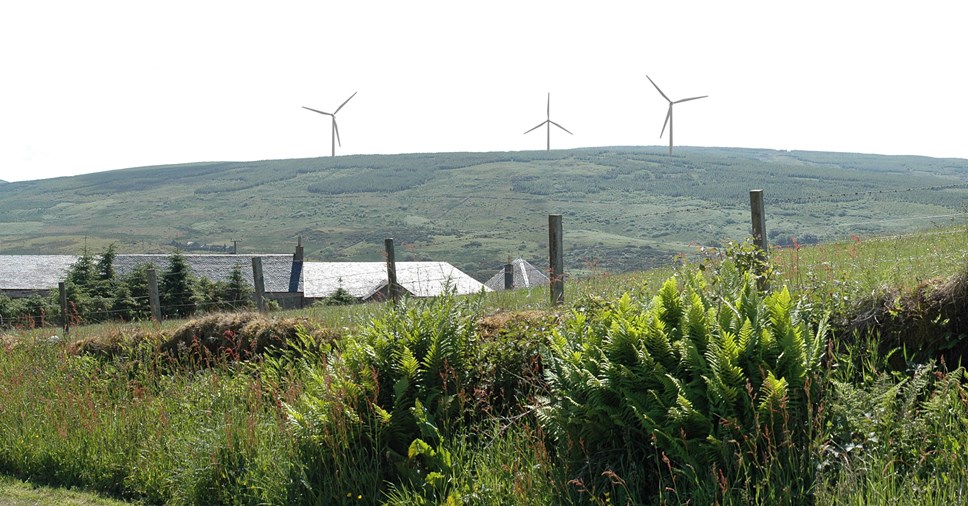 Scottish Investment Bank case study: Fyne Energy
A three-turbine windfarm development on the Kintyre Peninsula will generate £15.6 million of community and charitable benefit over the next 20 years. Fyne Energy's innovative project attracted funding from Triodos Bank and The Scottish Investment Bank (SIB).
When building work is completed in late 2018, the windfarm at Glenbarr will produce enough clean energy to power around 4000 households. Not only that, but the profit from generating the energy will be used to bring improvements to the community across housing, employment and local facilities.
Investing in a sustainable future
Triodos Bank, the UK's leading sustainable bank, invested £11.4m in the project, with SIB providing £2.82m via the Renewable Energy Investment Fund (REIF).
Fyne Energy chose Triodos as the right investor because of the bank's experience in renewable and social lending.
Colin Renfrew, Chief Executive of Fyne Homes, explains, "Triodos was willing to fund up to 80% of the project, so the SIB funding was a critical element in enabling the whole project to go ahead."
"We found SIB to be extremely supportive through the whole process. Their insight and advice helped us to tackle the challenges of finalising the funding. This included introductions to investors, dealing with the due diligence process and negotiating with other parties to finalise the deal."
Kerry Sharp, director of SIB, said, "After ten years of development, we were delighted to help secure this investment in Scotland. Projects like Fyne Energy play an important part in helping grow Scotland's renewable energy generation capability and provide meaningful, long term revenue for communities which can then be used to support housing, jobs and other local priorities."
Benefiting local communities
Fyne Energy was set up by Fyne Homes, a housing association with an 80-year history of providing social housing in Argyll and Bute. Colin explains, "The long-term income from the three turbines will mean we can continue to reinvest in our charitable objectives for social housing, local employment and sustainability, as well as providing investment for local priorities."
Predictions show that, once it is connected up to the grid, the power from Fyne Energy's three turbines will generate around £750k community benefit income each year. The funding will be distributed equally to three community initiatives. One third will support social housing charitable objectives led by Fyne Homes. The second tranche will support charitable employability and environmental priorities led by Fyne Futures. The final third will be invested in local priorities identified by the local community.
Glenbarr residents are currently working together to develop the local investment strategy.
Building for the future
The wind farm project is in a prime location. Located on high ground near Campbelltown, some of Scotland's highest wind speeds have been recorded here. The turbines, which will be installed in autumn 2018, will generate up to 6.9 megawatts of renewable energy. Local people will benefit, not only from the greener energy source but also from profits being invested in local housing, employment and other community projects.
Contact Information
Laura Suarez
Scottish Enterprise
0141 468 5728
07747 007256