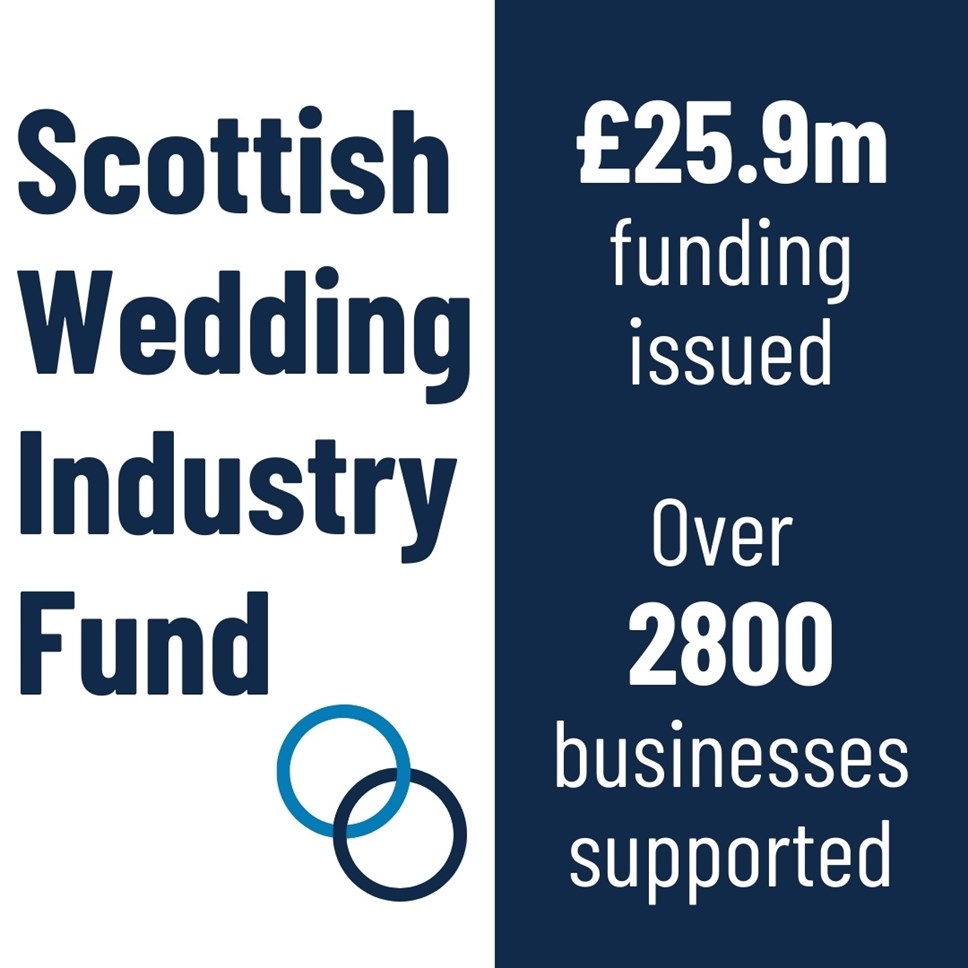 Scottish wedding sector supported by £25m fund
Scottish Enterprise supported 2382 businesses with £21.99m of funding
Over 2800 businesses which operate within the Scottish wedding industry have been supported by £25.9m worth of funding to help survive the ongoing Coronavirus pandemic.
A total of 2811 eligible firms received a share of the Scottish Wedding Industry Fund, which was provided by the Scottish Government and administered by a partnership of South of Scotland Enterprise, Scottish Enterprise and Highlands and Islands Enterprise.
The Scottish Wedding Industry Fund figures, broken down by enterprise agency, are:
Scottish Enterprise – 2382 businesses supported/£21.99m funding issued
Highlands and Islands Enterprise - 259 businesses supported/£2.2m funding issued
South of Scotland Enterprise - 170 businesses supported/£1.7m funding issued
The fund aimed to help businesses whose main income comes from the Scottish wedding industry to survive the pandemic and then restart once restrictions ease, thus protecting jobs.
The Scottish Wedding Industry Fund was fully allocated within four weeks of opening on 28 January, with each enterprise agency receiving positive feedback from a number of eligible businesses.
South of Scotland Enterprise Chair, Russel Griggs OBE said:
"At this most challenging time, the Scottish Wedding Industry Fund has provided crucial support to almost 3,000 businesses across Scotland.
"The success of this fund has been the result of strong partnership working between the three enterprise agencies, the Scottish Government and the Scottish Wedding Industry Alliance.
"All of Scotland's enterprise agencies, including South of Scotland Enterprise, are here to help businesses across all sectors throughout the ongoing pandemic, with support and advice available via the Find Business Support website."
Scottish Enterprise Interim CEO Linda Hanna added:
"The Scottish Wedding Industry Fund was created in a remarkably short time frame to ensure we could get the funding into the hands of businesses that needed it quickly and efficiently.
"Many of the businesses we've helped are vulnerable SMEs that rely on the wedding sector for their livelihoods and they've told us this funding will ease some immediate financial challenges for them.
"The wedding fund is another example of how we and our partners are working to address the immediate economic impact of Covid-19 while preparing to help businesses recover and rebuild."
Carroll Buxton, Deputy Chief Executive, Highlands and Islands Enterprise, said:
"The wedding industry is an important part of our tourism and hospitality sector, which has been particularly hard hit over the past year. The Scottish Wedding Industry Fund has provided crucial support to more than 250 businesses in the Highlands and Islands.
"This has helped them through an extremely difficult time and strengthened their position as we work on recovery."
More information on business support available in Scotland can be viewed at https://findbusinesssupport.gov.scot/
Notes to Editors
Further details on the distribution of the funding – including the eligible businesses which received funding - are available at each enterprise agency's website. Scottish Enterprise has this information at https://www.scottish-enterprise.com/our-organisation/accessing-our-information
Case studies
Pavilion Film/Photography
Loch Lomond-based wedding photographers and filmmakers, Pavilion Film/Photography, secured £5000 through the Scottish Wedding Industry Fund.
Paul Casey of Pavilion Film/Photography
"Following lockdown announcements, we've had many couples rescheduling their weddings which meant we had no weddings to shoot. If we don't shoot, we don't make any money.
"I didn't qualify for any other government grants or funding, so the Wedding Fund was an absolute lifesaver for the business. It's been my only income in the past year, and at the same time the business is generating hundreds, sometimes thousands, of pounds in expenses just to stay afloat.
"The process to apply was pretty straightforward and the funding arrived quickly, plus the Scottish Enterprise advisor was really helpful as he talked me through everything and was very reassuring at every stage.
"There's a glimmer of hope now as our 2020 and 2021 weddings move to dates in 2022 and 2023 – we're even starting to see demand for some dates leading to limited availability, and we're having to encourage our couples to rebook sooner rather than later."
Speyside Kitchen
Speyside Kitchen provides catering in the Cairngorm National Park and Speyside Region.
Claire Mackenzie, Co-founder, Speyside Kitchen
"The grant through the Scottish Wedding Industry Fund has boasted our resolve and confidence for year ahead.
"The grant quite simply has given us the confidence needed to invest in ourselves, our business.
"We are now actively engaged in assessing our services, venue and procedures for reopening."
Roulotte Retreat
Avril Berry and Alan Fraser have hosted elopements and small weddings at their French Roulottes and Gypsy Bowtop near Melrose in the Scottish Borders since 2014.
Over 20 couples were booked to tie the knot at Roulotte Retreat in 2020 but COVID-19 restrictions meant only four ceremonies went ahead.
Avril Berry
"The support from the Wedding Fund certainly helped us after the cancellations we experienced in 2020.
"We appreciated the way SOSE took the time to talk through the claim, listening to the impact COVID-19 was having on our business as well as being diligent in checking out all the necessary information and ensuring they had all the facts required for the application.
"An important aspect for us about the process was the personal touch - we had a named person to deal with who took the time to understand our business and our application."
For media enquiries about the fund in your area, please contact:
Contact Information
Ruth Andrew