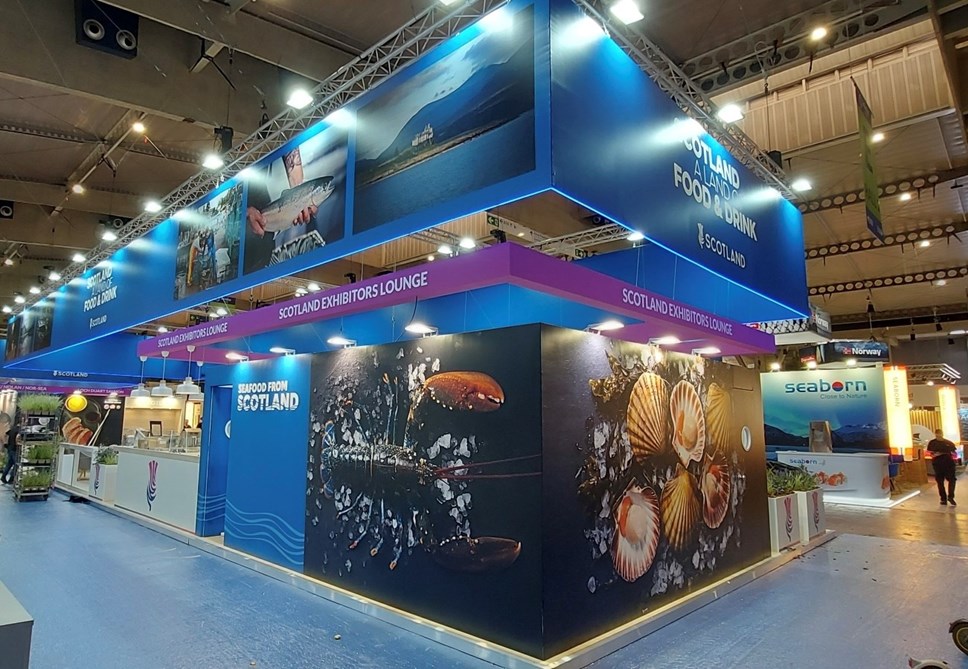 Spotlight on Scotland at record-breaking global trade event
Provenance and sustainability of Scottish seafood sector on display
Scotland's seafood sector will gain international exposure as the world's biggest seafood trade exhibit begins today.
Companies, trade bodies and Scottish Enterprise's international arm, Scottish Development International (SDI) will again represent 'Team Scotland' at the Seafood Expo Global in Barcelona, a three-day annual event that will see tens of thousands of industry professionals and buyers in attendance.
And the event will be bigger than ever before, occupying 49,299 net square metres – approximately 20% larger than previous Seafood Expo Global fairs that have taken place.
Nineteen companies will participate on the Scotland Pavilion at Seafood Expo Global, with a further 11 Scottish seafood companies having their own stands at the trade fair.
Scottish Government Cabinet Secretary for Rural Affairs, Land Reform and Islands Mairi Gougeon said: "The Seafood Expo Global is an excellent platform to promote our delicious, high-quality Scottish seafood for global exports to the 77 countries represented.
"Regrettably I am unable to attend this year, but Marine Directorate officials will be representing the Scottish Government at the largest event of its kind. They will be based in the Scottish Pavilion which is a joint enterprise supporting Scottish exporting businesses between Scottish Development International and Seafood Scotland, and one of the largest stands at the Expo.
"We published our Strategy for Seafood in October as a key component of the Blue Economy Vision, which sets an ambition for Scotland to be a global leader in providing healthy, high quality and sustainably produced and harvested 'blue foods' for consumption at home and abroad.
"I wish good luck to all stakeholders at the event, which is a fantastic celebration of our premium product on a global stage."
An SDI evaluation of last year's Seafood Expo Global found that the Scottish companies attending the event identified 200+ potential new customers, with 40% of the firms securing new business. In total, the Scottish companies have estimated increased international sales of £223m because of attending Seafood Expo Global.
Ewen Cameron, Global Head of Trade - Consumer Industries - at SDI, said: "Seafood Expo Global is the sector's showpiece event of the year, so it is fitting that Scotland's world-class seafood industry will be at the centre of it.
"The provenance of Scotland's food and drink is globally renowned, as is the commitment of Scottish producers to quality and sustainability, and the showcase of our seafood sector at Seafood Global is always excellent and something to be very proud of. Team Scotland's presence at last year's event was hugely successful for participating companies and we are confident this year will be equally as productive.
"Supporting innovative Scottish companies scale up and grow through exports is a priority for Scottish Enterprise and our global trade teams. Our trade specialists based here and across the world will continue to work with partners across the public and private sectors to showcase the very best Scotland has to offer when it comes to food and drink."
Joining SDI and the companies will be trade group, Scottish Shellfish. The co-operative will showcase the sustainability, provenance and quality of mussels, which Scottish Shellfish claims have the lowest carbon impact of any farmed seafood.
Rob Mitchell, Commercial Director for Scottish Shellfish, said: "Scottish Shellfish is excited to showcase, for the first time, our MSC sustainably certified mussel products at this year's Seafood Expo Global.
"We have a lot to offer our international customers including a low carbon, healthy and sustainable product to satisfy their customer demands. Scottish Shellfish has recently completed a Life Cycle Analysis that shows our mussel products to have the lowest global warming impact of any framed protein. Add to this the nutritional benefits of mussels in a diet, including all the amino acids and several macro nutrients that tend to be deficient in our diets, and our customers have a compelling offer for their seafood category.
"We are delighted to have the opportunity to promote our produce and continue to support our Coop of farmers from around the coasts of Scotland and hope to attract many new customers from across Europe and beyond."
Also in attendance as part of 'Team Scotland' will be Salmon Scotland, which will be hosting a VIP networking reception in Barcelona to promote the premium that Scottish Salmon offers consumers around the globe.
Tavish Scott, Chief Executive at Salmon Scotland said: "Scottish salmon is Scotland and the UK's number one food export. Last year our member companies exported £578 million of premium Scottish salmon to 54 countries in Europe, North America and Asia.
"With demand for premium Scottish salmon stronger than ever our event at Seafood Expo Global in Barcelona will bring together Scotland's salmon producers with top seafood buyers and suppliers. We are delighted that the Scottish and UK governments continue to champion the global success story that is Scottish salmon."
Natalie Bell, Head of Trade Marketing for Seafood Scotland, added: "Seafood Scotland Expo is always a fantastic opportunity to showcase the wide array of premium and sustainable seafood available from Scotland to international markets.
"As the largest Seafood Expo Global yet, we are anticipating another year full of high-level interest in Scottish seafood, and we'll be working hard to turn that interest into sales."
Contact Information
Robbie McGregor
Notes to editors
The attached image shows the Scotland Pavilion at Seafood Expo Global 2023 in Barcelona ahead of the event kicking off on Tuesday, 25 April
For more information on Seafood Expo Global, please visit: https://www.seafoodexpo.com/global/