14 November 2018
Talgo announces two preferred sites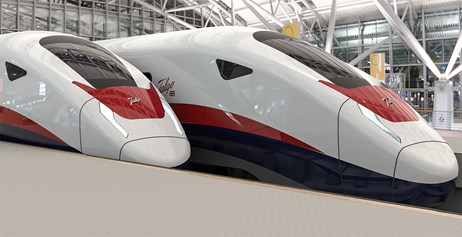 Talgo plans to create at least 1,000 UK manufacturing jobs in Longannet, Scotland
Innovation Centre to develop 'the best of British' in Chesterfield, England
TALGO today announced plans to invest in two UK sites.
Longannet is the preferred location for a factory site, envisaged to employ at least a thousand people. The Longannet factory site would initially occupy an area of 70,000+ square metres. Construction of a factory would take eighteen months. Additional jobs would be supported during the planning and construction phase.
A range of factors influenced the choice of preferred site. These included excellent connectivity by sea, rail and road; the availability of skilled workers and the ability to create a 'pipeline' of engineers and innovators to grow capability; a tremendous 'can do' attitude on the part of all partners brought together by Scottish Enterprise; and a credible evidence-base to provide assurance that the facility could be ready on budget and on time.
In addition, Talgo has announced the development of an 'all Britain' strategy, to protect and grow the supply-chain, provide opportunities for young people, and grow the UK's industrial base.
The strategy will draw upon the very significant capabilities across the UK, that Talgo has identified
during an eighteen month search for a primary location.
A second preferred site, at Chesterfield, will serve as an Innovation Centre, and be a focus from
which the 'All Britain' strategy will be developed. The central location will ensure wide accessibility.
TALGO is a leading specialized rolling stock engineering company mainly focused on designing,
manufacturing and servicing technologically differentiated, fast, lightweight trains with industrial
presence in 28 countries. These include Spain, Germany, Kazakhstan, Uzbekistan, Russia, the Middle East and the United States.
TALGO is renowned worldwide for its innovation capacity, its unique technology and reliability.
TALGO is the rolling stock provider for the Haramain high speed railway line between La Mecca and
Medina in the Middle-East, and provider of the new AVRIL train to Spanish operator RENFE.
TALGO aims for 'true manufacturing'. Instead of assembling kits of parts from overseas, the
company wants to source components from within the United Kingdom. This approach will grow the
UK's manufacturing capability, strengthen supply chains, create more jobs, and boost local
economies.
Although there will be a central factory location, key elements are expected to be made elsewhere
in the UK, and integrated into the final build at the facility in Longannet. This will ensure that the
benefits of Talgo's investment can be felt more widely across the UK.
The site at Longannet has great connectivity, would receive a major boost from job creation, and has
the potential to supply people that can be skilled-up to meet the needs of building trains that can
run at up to 235mph.
The choice of factory location - and the development of an 'all Britain' strategy – results from a
search that has lasted eighteen months, crossed much of the UK, and seen very detailed discussions with land owners, development agencies, local authorities, research establishments, schools, colleges and Universities.
The Innovation Centre at Chesterfield will become a focus for developing the 'all Britain' strategy. It
will draw on expertise from across the UK – including the other shortlisted factory regions.
This will recognise the contribution of those regions, and provide opportunities for potential to be further developed.
TALGO intends not only to build for the UK market, but also to serve emerging overseas markets, boosting UK exports.
Carlos de Palacio - President of Talgo (and grandson of the founder) said: 'This has been a tremendously challenging mission for Talgo, and I have personally seen excellence in all corners of the UK. It has been a difficult decision to make, as the quality has been so high in so many places.'
'The establishment of a manufacturing facility at Longannet is a significant part of Talgo's future strategy.'
'I want to congratulate Paul Lewis and Scottish Enterprise, for bringing together a wide-ranging team of industrialists, academics, politicians, civil servants and development experts. Their efforts are a credit to Scotland.
'However, our plans do not end in Scotland. Linked to our 'all Britain' strategy, we intend to create opportunity and harness skills across the UK.
'Talgo's aim is to establish true UK manufacturing – rather than assembling from parts made elsewhere. This will be a team effort, requiring the 'Best of British'. Our 18-month mission has revealed a determination and willingness across Britain to do just that.
'Although there can only be one factory site, we have developed excellent relationships with areas that we have visited. We are continuing those relationships to ensure that Talgo's 'all Britain' strategy provides opportunity across the UK. The Innovation Centre at Chesterfield will create a focus for some of this work.
'Talgo's approach keeps more money in the UK economy, and creates more skilled long-term jobs.'
Talgo's UK Director, Jon Veitch, said: 'This is not only an exciting day for Talgo, it is an exciting day for the UK, too.
'When Talgo started this process, we were looking for just one site. However, we soon realised that all parts of the UK had something to offer.
'We have learned about the many rail-related initiatives across the UK, intended to boost capability for research, development, and testing. There is an engineering renaissance under way, and I want Talgo to be a leading partner.
'Talgo wants to see a steady supply of engineers and other skilled people enter the workforce, and be the innovators of the future.
'As part of Talgo's commitment to the UK-wide supply chain, our preferred second facility – in Chesterfield – will act as a catalyst.
'We are developing this aspect of our strategy, and continue to consult with potential partners. We will make a further announcement, once discussions have concluded.
'Finally, I want to pay tribute to 'Team Chesterfield' – led by Chesterfield's Chief Executive, Huw Bowen. The team has proved that some of the most unexpected locations can win through, if they provide a compelling case and have inspirational leadership.
'I will continue to work with Huw and the team, to determine how the Innovation Centre may work in practice.'
Commenting on Talgo selecting Longannet as the preferred location for its new factory, Paul Lewis, managing director of Scottish Development International said:
"With our public and private sector partners, we've worked intensively for many months to deliver the optimum proposal and to secure Scotland and Fife as the preferred location for Talgo's investment, so this announcement today is a great news.
"The quality and skills of the workforce in the Fife area, combined with the strength of the business environment, will help Talgo realise its vision of establishing a world-class high value manufacturing facility for the rail sector, bringing benefits to Fife, Scotland and the UK as a whole.
"We are committed to working with Talgo and our public and private sector partners to realise the considerable benefits from the opportunity that this proposed investment represents."