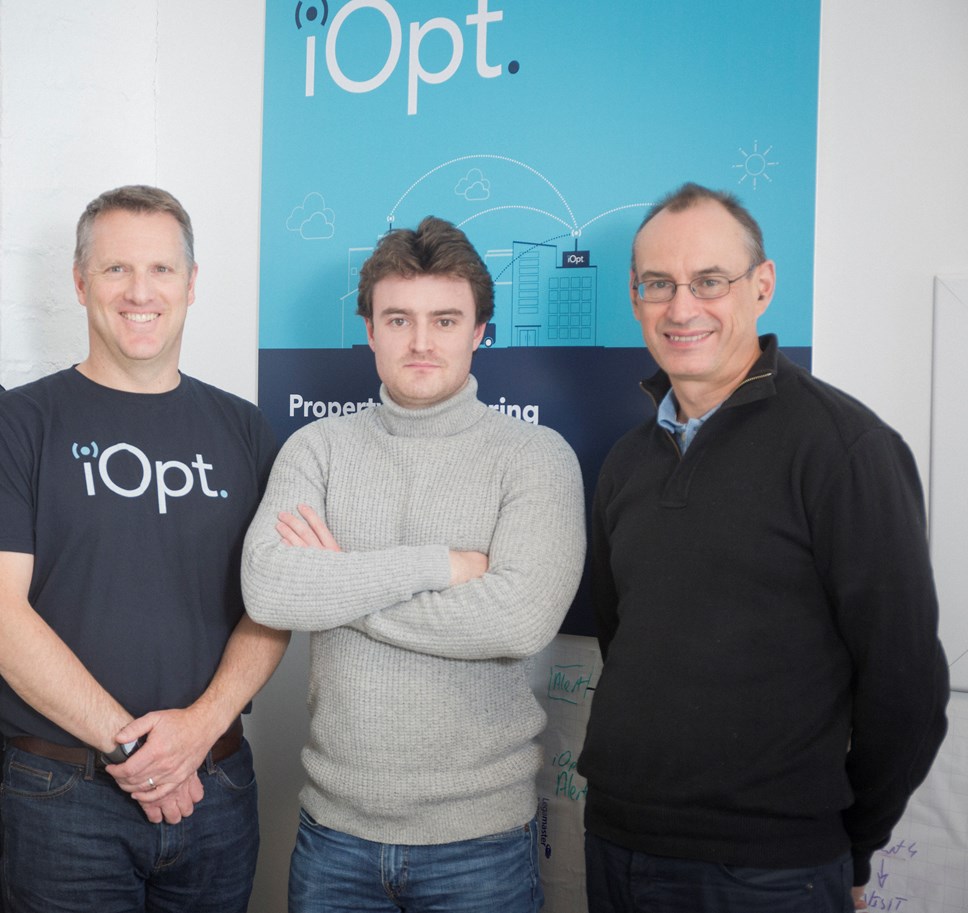 Tech innovator iOpt wins tender to install real-time monitors in Renfrewshire homes
Scottish tech innovator iOpt has won a tender worth up to £1 million with Renfrewshire Council to install real-time monitors in social housing stock as part of a scaled rollout. The project promises to improve the lives of tenants while cutting property management and repair costs
iOpt's groundbreaking Internet of Things technology measures temperature, humidity and carbon dioxide levels in properties, providing early alerts on issues such as problems with ventilation and potential dampness.
Supported by the Scottish Government, the partnership is believed to be the first of its kind in Europe, if not globally.
iOpt Managing Director Dane Ralston said: "We believe the contract with Renfrewshire Council has made IoT history and shows that Scotland is a world leader in the field.
"The technology we have developed is cost-effective, will deliver savings for local authorities at a time of financial uncertainty and help some of the most vulnerable tenants maintain a warm, healthy environment in their own home.
"More than ever, the world is changing at great pace, and we see remote asset monitoring of this kind as a key addition to any energy efficient home. To date, our studies have shown savings of approximately £190 per year per property."
The two-year project will start once government guidelines allow following lockdown restrictions. It will see sensors fitted into selected empty properties being prepared for new tenants, who will also be supported with energy efficiency advice and guidance.
The initiative has £150,000 support from the Scottish Government's CAN DO Innovation Challenge Fund, administered by Scottish Enterprise.
Minister for Trade, Investment and Innovation Ivan McKee said: "During these unprecedented times it is hugely encouraging to see Scotland continue its proud tradition of world-leading innovation.
"iOpt's pioneering IoT technology, being delivered in partnership with Renfrewshire Council, is a fantastic example of how innovation and collaboration can help people live healthy lives at home, supported by remote monitoring."
The sensors are small, easy to install and feed back information in real time to a state-of-the-art IT and data management system.
This enables the council to spot potential health problems and take preventative action to protect and improve homes. High humidity and low temperatures could suggest a tenant may not be heating their home efficiently, while high carbon dioxide could point to issues with ventilation.
The Renfrewshire deal was hotly contested, with iOpt beating competitors from Sweden, Holland and Ireland. This vote of confidence in an innovative Scottish business means iOpt looks set to prove that remote asset monitoring is possible at scale and it is currently in discussions with local authorities and housing associations across the UK.
iOpt's lead investor is Mactaggart & Mickel Investments, the investment arm of one of Scotland's major house builders. Corporate investors include the Scottish Investment Bank, the investment arm of Scottish Enterprise, plus a US IoT technology leader.
Mr Ralston said it was embarking on the next round of funding to accelerate growth plans, aiming for investors in the property, data and tech sectors who can add value and expertise.
He added: "We have a scalable and sustainable business model and an IoT-driven solution that tackles a global problem – one which improves the lives of the people and protects valuable housing assets. Healthy properties equate to healthy tenants."
Linda Hanna, MD of Scottish Economic Development at Scottish Enterprise, said: "Scottish Enterprise's support for the development of iOpt's solution – via the CAN DO Innovation Challenge Fund – is a great example how we can drive business opportunities and innovation through partnership working across the public and private sectors. I am really looking forward to seeing the benefits of this being realised and continuing to support the growth of iOpt, an innovative, Scottish-based technology business as it exploits this growing international market."
-ENDS-
Issued by Hollicom on behalf of iOpt Limited
For more information, please contact Jordan Agnew
at jordan@hollicom.co.uk or on 07765887566.
About iOpt Limited
iOpt Limited is a data and IoT driven business that assists large property asset managers to monitor key metrics within a property.
Built on over a decade of experience in technological engineering, iOpt was established in 2016.
Through the installation of small, un-intrusive devices in a property, iOpt systems monitor the levels of air quality, temperature and humidity in real-time before notifying the property owner of any recommended repair works or improvements. This remote monitoring ensures the safety of the tenant, the viability of the asset and peace of mind for the owner.
iOpt Limited is backed by Mactaggart and Mickel Investments, an industry leader in the UK construction industry. Registered in Scotland, iOpt are headquartered in Glasgow.
About Scottish Enterprise
Scottish Enterprise is Scotland's national economic development agency. We're committed to growing the Scottish economy for the benefit of all, helping create more quality jobs and a brighter future for every region.
Follow us on Twitter at http://twitter.com/scotent and https://twitter.com/ScotEntNews
Follow us on LinkedIn at https://www.linkedin.com/company/scottish-enterprise/
Editor Notes
iOpt's partnership with Renfrewshire Council to install real-time monitors in up to 2400 homes is over a four-year period. The initial two-year period will see iOpt devices installed in 1,100 homes, with the remaining 1,300 to be installed in years three and four.
The tender valuation was set at £1.3 million, and iOpt won the contract with a bid of circa £1,000,050. This is split into two tranches – tranche 1 (years one and two) is valued at £475,000 with tranche 2 (years three and four) valued at £575,000 collectively.
Contact Information
Jennifer Stevenson