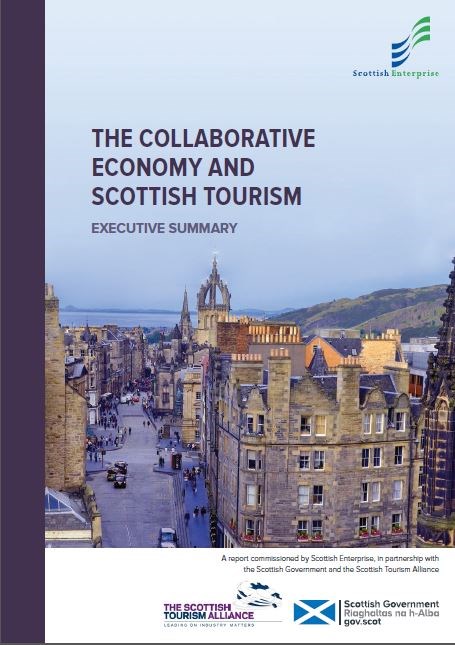 The Collaborative Economy & Scottish Tourism – Report released at today's ETAG Conference
The Collaborative Economy and Scottish Tourism Report, commissioned by Scottish Enterprise, the Scottish Tourism Alliance and the Scottish Government, is released this morning at the annual ETAG (Edinburgh Tourism Action Group) conference at the McEwan Hall, Edinburgh. Peter Jordan, of international research and insight agency Toposophy will share findings with senior representatives from Edinburgh's tourism industry as they meet to explore the key issues and opportunities arising from Edinburgh's ongoing success as a visitor destination.
At this morning's ETAG conference, tourism leaders will consider the opportunities presented by the collaborative economy to support the ongoing ambitions of the Edinburgh 2020 Tourism Strategy, and explore how use of innovative technology platforms, and closer collaboration with the sector can help to turn Scotland's tourism assets into authentic experiences which cannot be easily replicated by its competitors.
The report considers five tourism related sectors with a view to finding out to what extent they have developed in Scotland, the key opportunities that they bring to the Scottish tourism sector, as well as insight and background to help shape future regulations. Trends across Accommodation, Transport, Food & Meals, Tours & Activities and On-Demand Domestic Service are included in the report findings.
The report finds that 35% of Scottish adults have used a collaborative economy platform, and that over half of Scottish adults who have used a collaborative economy platform are aged between 18-34. Indeed, across the EU, millennials are leading the trend, whilst the profile of users and providers is becoming more diverse every day.
Full report and executive summary available here.

Tourism Secretary Fiona Hyslop said: Scotland's tourism industry has seen particularly rapid changes as a result of the growth of the collaborative economy, which presents both challenges and opportunities.
We need to ensure our tourism businesses and organisations can harness the benefits offered by these changes, therefore this new analysis from Scottish Enterprise is very welcome.
Danny Cusick Director - Food and Drink, Textiles, Tourism, and Fintech, Scottish Enterprise: Scottish Enterprise is delighted to have led the delivery of this research which will help us understand how the collaborative economy can be used to influence and grow the visitor and digital economies. With 85% of travellers demanding more personalisation and unique experiences Scotland has scope to grow its £11.5bn visitor economy particularly in areas including food, tours and activities which are key to visitor experience, but as yet early in their adoption of collaborative platforms.
Growth of the collaborative economy – driven by platforms producing huge amounts of data – will also be a focus in delivering Scotland's £20bn data opportunity. Scottish Enterprise will work with partners including The Data Lab, Scottish Tourism Alliance and Scottish Government and VisitScotland to take advantage of this growing trend.
Robin Worsnop, Chair of ETAG: We look forward to exploring the findings of this research, and to continuing to understand the innovations and collaborations that will ensure the best experiences for visitors to the city. The collaborative economy presents a number of opportunities for the tourism sector in Edinburgh to create and promote experiences that are unique to the city, which is a key element in our Edinburgh 2020 Tourism Strategy. As an industry, we are always seeking to create the right balance to ensure the whole city benefits from our visitors; tourism is an important contributor to the economy, providing over 34,800 jobs and generating £1.4 billion in visitor spend.
Marc Crothall, Chief Executive of the Scottish Tourism Alliance: The collaborative economy represents a huge opportunity for many sectors within Scotland's tourism sector, as evidenced by the report. We are clearly moving away from a climate where the collaborative economy was seen as one in which 'other businesses' operate to a new world with exciting possibilities and opportunities for tourism businesses to become engaged in offering tourists and of course domestic visitors new quality, authentic experiences unique to Scotland and its diverse destinations. The tourism industry and government both have an important role to play in ensuring that these opportunities are maximised. We need our tourism businesses to become more digitally capable to keep up and indeed get ahead of the game in relation to connecting with today's visitor and delivering these new expectations and of course this new and evolving part of our economy must develop with the support of the right legislation and regulation by government and local authorities.
For more information, please contact: Yasmin Ahmad yasmin@wearewire.co | 07912 654 517 or Jenny Mungall | jenny@wearewire.co | 07813 886 448
Notes to Editors
About Edinburgh Tourism Action Group (ETAG):
The umbrella organisation for Edinburgh's tourism sector, ETAG's aim is to create a strong tourism community, working together to deliver sustainable growth for the sector. ETAG helps enable businesses to deliver a great visitor experience, which in turn leads to increased economic benefits for Edinburgh and Scotland.
With a network of over 1,500 tourism professionals, businesses and organisations, ETAG offers a wide range of services. This includes market intelligence and insight, business development, innovation support, training sessions, business briefings and networking opportunities, facilitating future collaboration and share ideas.
Primarily funded and supported by Scottish Enterprise, ETAG works collaboratively with major stakeholders from across Edinburgh's tourism sector. Senior representatives from the likes of Festivals Edinburgh, VisitScotland, Marketing Edinburgh, Historic Environment Scotland, Edinburgh World Heritage, National Museum of Scotland and EICC, meet regularly to discuss the challenges, opportunities and strategic issues for tourism in the city.
Contact Information
Julia McLaren
Engagement Partner
Scottish Enterprise
0300 013 3223
07801 794046