22 March 2019
University team to develop life-saving treatments with support from Scottish Enterprise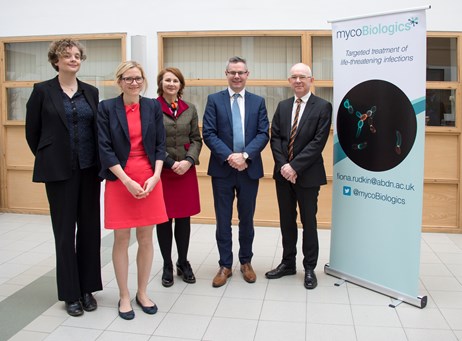 The University of Aberdeen's mycoBiologics team has made significant progress in developing treatments to help tackle the growing problems of deadly fungal infections and antibiotic resistance, after being awarded £400,000 from Scottish Enterprise's High Growth Spin-out Programme (HGSP)
The team, headed up by Principal Investigator Dr Fiona Rudkin, has been working since 2012 on developing tailor-made antifungal antibodies to treat serious fungal infections – currently responsible for the deaths of 1.5 million people every year. Those most at risk include cancer, ICU, surgical and transplant patients; a growing population as more diseases become treatable and survival rates improve. There are currently no other antifungal drugs of this type approved for clinical use, meaning the mycoBiologics team has a great opportunity to plug a gap in the medicines market. The global anti-fungal drug market is forecast to be worth as much as $13.45bn by 2023.
Crucially, the team is also developing antibacterial antibodies as an alternative treatment option to antibiotics, helping to mitigate the growing problem of antibiotic resistance, which has been identified by the World Health Organisation (WHO) as one of the biggest current threats to global health.
The team already has interest from several pharmaceutical companies, and the HGSP funding from Scottish Enterprise will help them attract private investment in order to carry out clinical trials with a view to securing lucrative licensing deals. Once this happens, most of the early stage research and development work will be managed and delivered in-house by the mycoBiologics company, creating around 15 high-value jobs by year five.
Cabinet Secretary for Finance, Economy and Fair Work, Derek Mackay, visited the MRC Centre for Medical Mycology at the University this morning to meet the team behind the innovative project. He said: "The Life Sciences sector is extremely important to the Scottish economy and in 2017 business R&D expenditure in the sector was £293 million, representing 23.5% of the Scottish total spend.
"Prospective companies like mycoBiologics are important not only to our economic growth but also contribute to Scotland's positive impact in tackling health challenges within Scotland and worldwide. This £400,000 grant will help mycoBiologics attract further investment in order to drive this innovative project ahead."
Caroline Strain, Scottish Enterprise's Regional Head for the North of Scotland, said: "Through HGSP we work with leading academics all over Scotland to help turn their innovative and often life-saving ideas into successful business ventures. The work done by Dr Rudkin and her mycoBiologics team is an excellent example of this, harnessing the research capabilities of the University of Aberdeen to help tackle some of the biggest health concerns facing society today.
"Together with our partners in the public and private sectors we're working to support the growing hub of Life Science companies in the North of Scotland and look forward to working further with mycoBiologics as part of this after they spin out and grow."
Dr Fiona Rudkin said: "HGSP funding has been vital in supporting us as we transition from the University of Aberdeen to securing private investment and setting up mycoBiologics as a new biotech company. mycoBiologics will be based in Aberdeen, adding to the growing cluster of biologics-based companies in the region.
"Once the Opportunity North East BioHub is complete, we will benefit from state-of-the-art facilities which will be key for accelerating company growth and cementing the North East of Scotland as a leader in therapeutics development."
Scottish Enterprise
is Scotland's national economic development agency and aims to deliver a significant, lasting effect on the Scottish economy. Our role is to help identify and exploit the best opportunities for economic growth. We support ambitious Scottish companies to compete within the global marketplace and help build Scotland's globally competitive sectors. We also work with a range of partners in the public and private sectors to attract new investment to Scotland and to help create a world-class business environment.
Follow us on Twitter at
http://twitter.com/scotent
Follow us on Facebook at
http://www.facebook.com/scottishenterprise