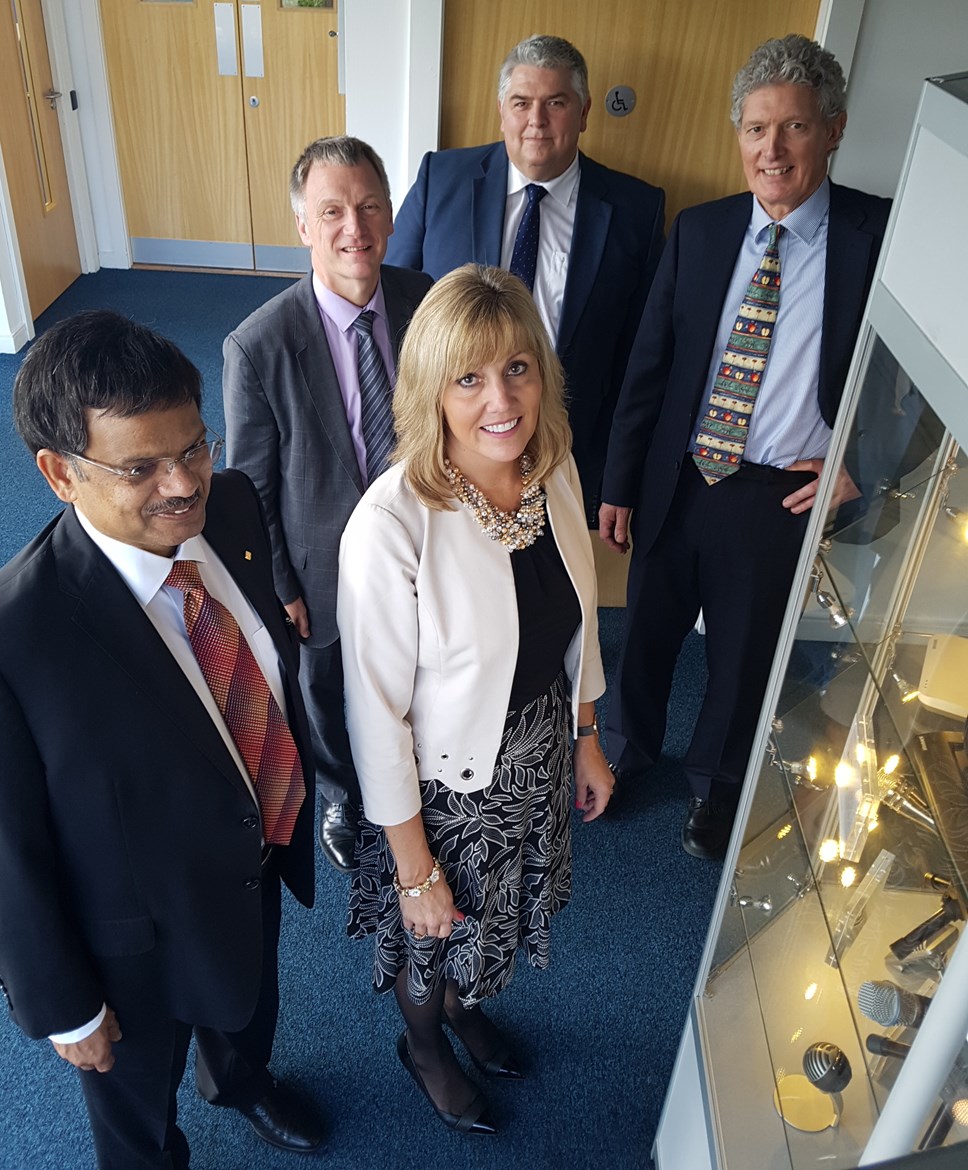 US-based Shure Incorporated Expands to new Edinburgh Design Centre
Shure Incorporated, a global market leader in microphones and audio electronics, has entered the Scottish market for the first time with the strategic acquisition of Edinburgh-based TES Electronic Solutions Limited, it was announced today during a visit by investment minister, Ivan McKee.
Two executives from Shure, president and CEO Christine Schyvinck, and Avi Vaidya, executive vice president of product development and chief technology officer, were also present at the new Edinburgh Design Centre.
With this acquisition, TES UK, based at Heriot Watt Research Park, becomes Shure's Edinburgh Design Centre, as the company expands its engineering footprint in Europe.
TES, formerly part of Stuttgart-based global electronics design group TES DST Holdings, has developed a strong reputation based on its capabilities in developing innovative wireless solutions and has worked closely with Shure on a number of projects over the years.
Shure will gain the company's proven engineering and design talent, in addition to a suite of relevant intellectual property. From its headquarters in Niles, Illinois, Shure is established as a champion for investment in innovation; the company recently invested in a new incubator facility to encourage development of new innovations in audio.
"Christine and I are honored to have the opportunity to meet with minister Ivan McKee and representatives from Scottish Enterprise," said Avi Vaidya. "TES has been an outstanding partner for Shure, and we appreciate the engineering excellence that has been shown by their team. We believe our shared commitment to innovation in business and technology is a positive step for Shure as well as for Scotland."
Investment Minister Ivan McKee said: "Shure's success is built upon ingenuity and innovation. The team based at Heriot Watt Research Park is now part of a rapidly growing and highly respected market-leading global company. The Edinburgh team will play a key role in the Company's continued growth and development that will result in Shure products being designed and engineered at Shure's new Edinburgh facility".
The company has received innovation and account management support from Scottish Enterprise, and has been supported by SE and its international arm Scottish Development International, throughout the acquisition.
Commenting on the announcement, Paul Lewis, managing director of Scottish Development International, said: "Shure is a global leader in its field and this news is yet another endorsement of Scotland's attractiveness as an innovative, dynamic and connected location for investment in tech and R&D projects.
"The fact that the Edinburgh site will have such a pivotal role in developing Shure's market-leading product range speaks volumes about the skills and capabilities within the existing team, and of course access to a steady flow of qualified graduates from our universities will help to secure the company's future.
"It's a real pleasure to welcome Shure to Scotland and we look forward to supporting the team as they develop their growth plans for Scotland."
ENDS
Notes to editor
Shure Incorporated is widely acknowledged as the world's leading manufacturer of microphones and audio electronics. The company's diverse product range includes both wired and wireless microphones and systems; personal monitoring systems; conference and discussion systems; networked audio systems and award-winning earphones and headphones. Shure is based in Niles, Illinois and has over 30 additional manufacturing facilities and regional sales offices throughout the Americas, EMEA and Asia. This includes a UK sales and distribution centre in Waltham Abbey, Essex.
Contact Information
Laura Suarez
Scottish Enterprise
0141 468 5728
07747 007256