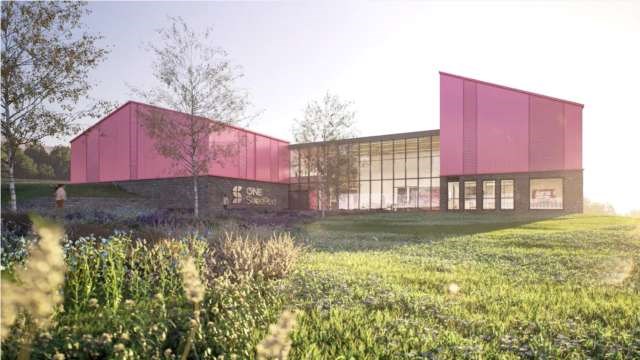 Work starts on ONE SeedPod innovation hub for food and drink manufacturing
Work to create ONE SeedPod – the transformational industry innovation hub for Scotland's food and drink industry – has started in Aberdeen, following the completion of the capital funding package and award of the construction contract
Opportunity North East (ONE) is leading and delivering the Aberdeen City Region Deal innovation project to create the new space, facilities, programmes and entrepreneurial environment for a key growth sector of the economy on Scotland's Rural College (SRUC) Craibstone Campus.
ONE SeedPod is a £27million investment to enable manufacturing and production businesses to lead in innovation, productivity, sustainability, and developing foods of the future. To increase premium exports and create high-value jobs.
Robertson Construction is the main contractor, and ONE SeedPod is scheduled to open in late 2024.
The project includes £10million of capital funding from the UK Government and Scottish Government via the Aberdeen City Region Deal (ACRD) – a partnership between the governments, ONE, Aberdeen City Council and Aberdeenshire Council. ONE has committed £5.4million and set up Food Hub (NES) Limited to take the capital project forward. ONE secured £3.1million for ONE SeedPod from the Just Transition Fund in 2022, and Scottish Enterprise has now confirmed £2million. Scotland's Rural College (SRUC) is a strategic partner and providing the site for ONE SeedPod.
Food and drink businesses and partners hailed the project as game-changing for the sector, which employs more than 22.000 people in north east Scotland with an annual turnover of £2.2billion.
David Kilshaw OBE, who chairs the Food Hub (NES) board, said: "The ONE SeedPod industry innovation hub will put food and drink businesses at the forefront of product and process innovation, low-carbon high-value manufacturing, as well as the development of premium markets for consumer-led foods of the future.
"The unique combination of commercial facilities, sector knowledge, insights and expert networks in ONE SeedPod will stimulate ambition, nurture the next generation of high-growth start-ups, and accelerate scale-up. The hub sits at the heart of this significant food-producing region and will be a national asset for the sector," said Mr Kilshaw.
UK Government Minister for Scotland Malcolm Offord said: "It's great news that construction is starting on ONE SeedPod. This fantastic new facility will boost Scotland's world-leading food and drinks exports and bring new jobs and investment to Aberdeen and the wider region. The UK Government is supporting ONE SeedPod with £5million in funding as part of £125million investment in the Aberdeen City Region Deal."
Scottish Government Wellbeing Economy Secretary Neil Gray said: "The start of ONE SeedPod's construction is a major milestone in the Aberdeen City Region Deal. SeedPod will support a just transition to net zero in the north east, helping food and drinks businesses grow, innovate and succeed.
"It is the result of strong regional partnership working, which draws on the strengths of different sectors, and aligns with the Scottish Government's National Strategy for Economic Transformation.
"This is why we are making an £8.1million investment in SeedPod - £5 million through the Deal and £3.1million from the Just Transition Fund - supporting innovation, enterprise and prosperity for an important industry in the region," said Mr Gray.
Adrian Gillespie, Chief Executive of Scottish Enterprise, said: "Food and drink is Scotland's top international export sector and a huge opportunity area for the future. ONE SeedPod will accelerate its growth and competitiveness by providing the ecosystem, infrastructure and expertise that will give companies the very best chance of success and scale."
Andrew Lacey, Vice Principal – Commercial, SRUC said: "As the construction of ONE SeedPod begins, we are taking a significant step closer to launching this exceptional collaboration at SRUC Craibstone Campus. The innovative project opens the door to facilitate vital collaboration between business, research and education by sharing a campus location with SRUC, providing product development, demonstration and incubator facilities as well as offering roles co-funded by project partners to support entrepreneurs and businesses. Ultimately, this united effort, which demonstrates a level of collaboration that SRUC aims to recreate in all areas across the agri-food sector, will support important strides towards innovation and sustainability within the food and drink industry."
Elliot Robertson, Chief Executive Officer, Robertson Group, said: "ONE SeedPod further illustrates the commitment being made to deliver transformational projects to diversify the economy in north east Scotland. We are proud to be the delivery partner on our second project for ONE and look forward to playing our part in providing a high-quality facility which will nurture innovation and inspiration, driving new product development for this key sector whilst creating employment opportunities and bringing investment to the local economy."
Stuart Common, Managing Director at Mackie's of Scotland, said: "North east Scotland produces more than 20% of Scotland's food and drink output and is home to some of the industry's most innovative an progressive businesses. ONE SeedPod is going to be a significant asset, enabling ambitious new start-ups to grow and established businesses to drive ahead with product and market development and process innovation. That'll be good news for what is an important industry and the jobs it provides across our communities."
Bill Dean, managing director of Dean's of Huntly, said: "Product and process innovation and customer-focus are really important for the future success of the food manufacturing sector. ONE SeedPod is going to give businesses access to commercial facilities, services and industry expertise under one roof, which will help new and established businesses to grow. Ensuring that north east Scotland continues to lead Scotland's food and drink sector and provides sustainable jobs."
Ben Stuart, co-CEO at Aberdeen-based intelligent robotics business Leap Automation, said: "Its super exciting to see this level of investment in the region. ONE SeedPod will help us to cement the reputation of the North East as a growing hub for innovation and automation within the sector. I'm really looking forward to sharing and collaborating with industry partners at the pod and seeing the great innovations that will undoubtedly come from this fantastic facility."
-ENDS-
Media Contact
Nat Anderson, Senior Communications Manager, Opportunity North East
M: 07387 647283
E: nat.anderson@opportunitynortheast.com
Notes to Editors
ONE SeedPod is a £27 million investment in the food and drink industry to create an innovation hub for manufacturing and production in north east Scotland that will deliver regional and national growth ambitions.
Led by Opportunity North East (ONE), the Aberdeen City Region Deal innovation project will put the region's businesses at the forefront of innovation, productivity, sustainability and developing foods of the future, to increase high-value exports and create new jobs.
ONE SeedPod will offer bespoke programmes, global insights and specialist facilities in a 30,000 sq ft new-build on Scotland's Rural College (SRUC) Craibstone Campus, including incubator food standard manufacturing units; development and demonstration kitchens; full-service managed production and storage space; presentation areas; co-working and collaboration space. Established companies will grow through innovation, technology adoption, market and product development, and global consumer focus. High-growth new businesses will benefit from food-safe start-up production and scale-up space within an entrepreneurial ecosystem and with access to expert mentoring.
Contact Information
Jennifer Stevenson