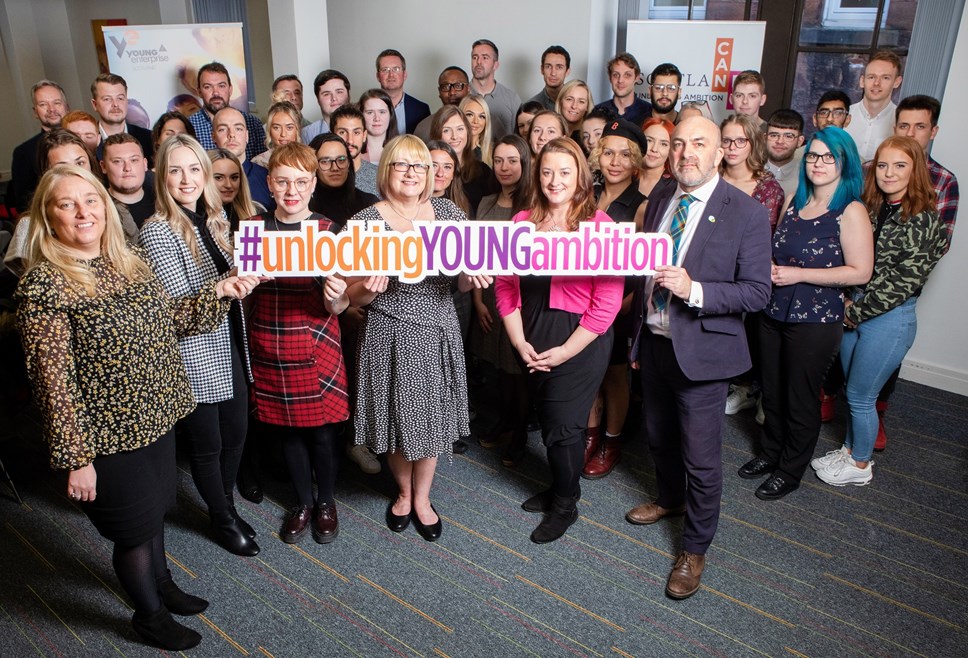 Young Enterprise Scotland and Unlocking Ambition team up to create entrepreneurship experiences for students
Pilot programme to encourage young people to consider entrepreneurship as a viable career path
Unlocking Ambition and Young Enterprise Scotland's Bridge 2 Business programme have teamed up to launch 'Unlocking Young Ambition' that will give 30 college students the opportunity to meet and be personally mentored by a successful Scottish entrepreneur.
The pilot programme seeks to inspire the next generation of potential entrepreneurs and provide an inclusive experience for students aged 16-30 from a diverse range of backgrounds.
The students, from around Scotland, have been matched with 13 Unlocking Ambition ambassadors from the £4m flagship Unlocking Ambition Challenge programme originated by the First Minister and delivered this year by Scottish Enterprise. Entrepreneurs receive intensive wrap-around support from a dedicated team to help support and scale their businesses, while having the opportunity to develop their own skills. Forty entrepreneurs were selected for the programme based on the potential economic and social impact of their businesses.
Each student will be set a mini-project by their Unlocking Ambition ambassador and will spend at least two days in the business working on it. The first students will start next month, and the programme will run until the end of December. Amongst those entrepreneurs taking part are Hey Girls CIC, Brewgooder, Talking Medicines, MyWay Digital Health, Arx Maritime, The Start-Up Drinks Lab and Phox Water.
Alison Loveday, the Unlocking Ambition programme manager, said: "It's vital that we continue to create great opportunities for young people to consider entrepreneurship as a viable career path. The Global Entrepreneurship Monitor1 shows the UK leading the way in some aspects of entrepreneurship and we are determined to continue to build Scotland's reputation as a global hub for entrepreneurialism.
"We are trialling this Unlocking Young Ambition initiative by matching local college students to successful entrepreneur-mentors to inspire them and give them a hands-on experience of what it's really like to run a business.
"One of the aspects of the Unlocking Ambition programme that has been particularly successful over the past year has been the cohort-based approach. The UA Ambassadors continue to help and support each other as they develop their business and our hope is the Unlocking Young Ambition students will benefit from the networking and development opportunities as a peer group as well as the experience of learning all about the Unlocking Ambition businesses."
Geoff Leask, chief executive of Young Enterprise Scotland, said: "When the Bridge 2 Business Programme was launched over five years ago one of the key drivers was to connect college students with entrepreneurial role models because it is difficult to be what you cannot see. This opportunity to connect students from Scotland's Colleges of Further Education with some of Scotland's most innovative entrepreneurs through the Unlocking Ambition partnership is such an exciting initiative for everyone involved."
Scott Dickson of Phox Water and Unlocking Ambition Ambassador taking part in the programme, said: "Scotland is an unbelievably supportive country for entrepreneurs and I've been very lucky with the help I've received in setting up and developing my business. I knew from an early age that working for someone else wasn't necessarily for me. Unlocking Young Ambition gives me the opportunity to help encourage other young people who have the potential to build something innovative."
ENDS
For more information please contact the Unlocking Ambition team at Smarts Communicate on 0141 222 2040 / unlockingambition@smartscommunicate.com
Notes to editors
1Global Entrepreneurship Monitor, UK 2018 Monitoring Report https://www.gemconsortium.org/economy-profiles/united-kingdom
Unlocking Ambition – The Story So Far… video: https://vimeo.com/326788024
Contact Information
Press Office