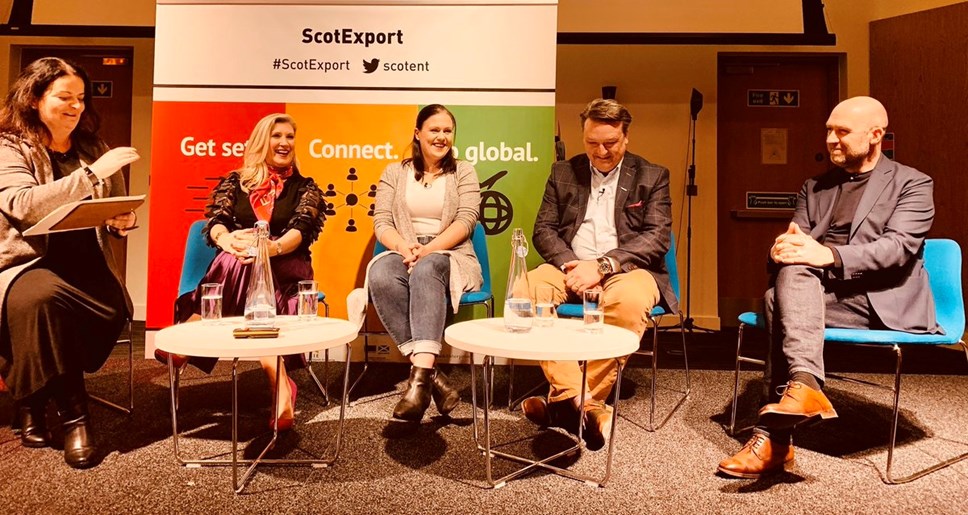 Optimism remains as Scottish firms eye global opportunities
In his latest editorial looking forward to 2022, our interim Managing Director, Neil Francis explains how Scottish Development International assists companies with accessing international markets
While COVID-19 has impacted all parts of the global economy, one of the hardest hit areas has been international trade.
As academics from the London School of Economics pointed out, some of the largest reductions in trade since World War II were recorded in 2020, while the World Trade Organisation said despite growth returning in 2021, COVID-19 continues to present risks to global trade, particularly if further variants were to emerge.
Closer to home, COVID-19, the end of the EU Transition Period and supply chain challenges have contributed to a decline in Scotland's export rate, compared to pre-pandemic levels. This decline is evident across the UK: HMRC figures published earlier this month revealed that when comparing the annual period ending September 2021 with the corresponding period in 2019, there was a £37bn (11%) decrease in UK exports.
Alongside the physical barriers to global trade caused by COVID-19, including the closure of borders and transport restrictions, we also witnessed a change in consumer behaviour during the pandemic, with many customers adopting more 'localised' purchasing habits.
So, the situation for those in international trade has been extremely challenging for the past two years. But there is hope.
With Scotland appearing to turn the corner against Omicron and protective COVID-19 measures recently being lifted by the Scottish Government, there's a cautious sense of optimism amongst many in the business community that we may be returning to some form of normality in terms of global exports.
That's certainly what we are picking up from some of the many companies Scottish Enterprise engage with on a regular basis. Intelligence we've gleaned suggests that two of the biggest opportunities for firms in Scotland are international growth and new markets, driven by expected increased demand for their good and services.
Further Scottish Enterprise research revealed that at the end of 2021, 69% of Scottish companies were exporting at 'normal' levels again.
While this is only a snapshot of companies Scottish Enterprise has engaged with and not an overall representation of business in Scotland, it's heartening to know many firms continue to adopt a global outlook.
Despite the pandemic, companies across Scotland have continued to trade in international markets. And Scottish Enterprise has been there to assist them on their journey.
For example, in response to the impact of COVID-19 on global travel, we completely pivoted our support for exporters in Scotland, maximising our digital channels to their full effect and delivering more than 100 trade events to almost 5,000 individuals. Digitising export support was critical to help identify and support future trade international opportunities.
Trade specialists have also been working hard to deliver the International Recovery Programme, which supported companies whose international capacity was impacted by COVID-19. Funded by the Scottish Government, this support will assist 150 SMEs over a two-year period.
As a result of this activity, Scottish Enterprise figures showed that in FY20/21, companies were able to forecast international export sales in excess of £1bn.
Whether it was promoting our world class food and drink sector at a virtual, global foodservice summit in March 2021, highlighting Scottish expertise in the space, low carbon and life science sectors at Expo 2020 in Dubai or displaying some of our country's finest goods and products at the China International Import Expo in November 2021, Scottish Enterprise's dedicated trade specialists and our partners have continued to bang the drum for Scotland in priority markets across the world.
We've also been thrilled to work with some of Scotland's most innnovative companies to support their international aspirations. For example, Scottish Enterprise has worked closely with tidal energy technology firm Sustainable Marine, who announced in February plans to deliver a floating tidal energy platform in Nova Scotia, Canada.
And in September, Glenmorangie announced the opening of its Lighthouse innovation distillery near Tain. Scottish Enterprise's support will allow the company to bring exciting, new products to global markets quicker than ever.
So, we begin 2022 in an optimistic mood and the Scottish Enterprise team at home and across the globe have already been busy highlighting the very best Scotland has to offer.
In the US, we've supported the involvement of Scottish companies in two major trade events: the Atlanta International Gift and Home Furnishings Market and the PGA Merchandise Show in Orlando, Florida. Meanwhile in the Middle East, Scottish Enterprise this week supported Scotland's Digital Health and Wellness Day event at Expo 2020, which showcased our country's approach and solutions to improving some of the biggest global healthcare issues.
Looking further ahead, we're excited to be participating in Scotland's two Race to Net Zero day events at Expo2020 in March, which will highlight our country's leading role in tackling the climate emergency.
These events will give us the opportunity to share our hydrogen ambitions, which include generating 5GW of renewable and low-carbon hydrogen by 2030. Many of the successful applications from the recent ScotWind leasing round have ambitions for green hydrogen, which presents us with significant energy and export opportunities.
Alongside this activity, we will continue to provide support to Scotland's existing exporters. Using the Scottish Government's Trading Nation as our guide, we will work with partners to support firms in sectors where Scotland's greatest export strengths lie currently, including:
Consumer Industries
Science and Technology
Energy and low carbon transition
Scottish Enterprise will assist companies in consolidating their market positions and rebuild their export potential, through innovation, capability building and capturing new market opportunities. And our prestigious international networks, such as GlobalScot, will continue to offer critical market insights to businesses across Scotland, opening doors for firms to allow them to enter markets overseas.
Indeed, GlobalScot continues to grow with the network recently passing a milestone of 500 members in Europe. There are now more than 1,080 GlobalScots based across the world.
All of this activity is aligned to the Scottish Government's Vision for Trade, a blueprint that sets out Scotland's values-based approach to international trade and investment.
So, while the past two years have been difficult for exporters, it's clear that Scotland's global reputation for quality has not diminished and we are well placed to take advantage of emerging export opportunities
Scottish Enterprise, along with our partners, will continue to highlight the importance of international trade to Scotland's sustainable ,economic growth and do everything we can to continue to support our companies.