29 June 2018
SCOTLAND PRAISED FOR LEADING THE WAY IN EMPLOYEE OWNERSHIP AS NATION CELEBRATES EO DAY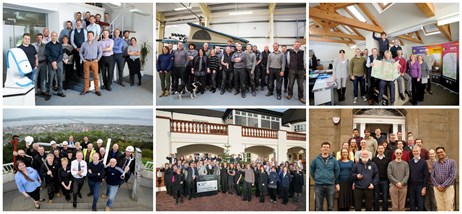 Independent inquiry calls on UK Government to mirror Scotland's successful approach to championing employee ownership
An independent inquiry into the performance of employee-owned businesses and their impact on the economy has praised Scotland for leading the way in its approach and commitment to growing the popularity of employee ownership as the nation celebrates EO Day (Employee Ownership Day) today (29 June 2018).
The Ownership Effect Inquiry, led by the Employee Ownership Association (EOA) in partnership with the eaga Trust and the UK's largest employee-owned business the John Lewis Partnership, was launched on the back of research showing that the rapidly growing sector outperformed the conventional business sector during the economic downturn and continuously demonstrated exceptional levels of employee engagement, productivity and standards of governance. It sought to further examine the performance of EO businesses against their non EO counterparts and identify opportunities to grow the effects of employee ownership as an economic and social enabler.
The findings were set out in the Employee Ownership Dividend, which included the recommendation that the UK Government "invest in ownership capacity building that echoes Scotland's successful scheme that has delivered a tenfold return on investment for every £1 devoted to on-the-ground support."
The scheme referred to is driven by Co-operative Development Scotland (CDS), the arm of Scotland's economic development agencies whose remit is to promote awareness of EO, provide advice to businesses considering adopting the model, and to support existing EO businesses.
Commenting on the news, Co-operative Development Scotland director Sarah Deas said: "The employee ownership model is seen by the Scottish Government as a means to root businesses in their communities, drive productivity and share wealth more widely. Our work to promote EO and drive these benefits has seen the number of employee-owned businesses operating in Scotland treble to around 100 in the past five years, with approximately 7,000 employee-owners generating a combined turnover of around £940million. We have set an aspiration to further increase the number of employee-owned businesses tenfold over a ten year period, and are currently averaging a deal a month."
In order to achieve this, CDS raises awareness of EO through the media and events, facilitates introductions to existing EO businesses and provides an advisory service to businesses considering employee ownership, including undertaking a feasibility study and providing grant support for the consultancy costs associated with a transition. An evaluation by Ekosgen estimates that for every pound spent supporting CDS (totalling just over £5 million between 2009-2016), it generates cumulative GVA ten times that figure.
Sarah Deas continued: "It's highly encouraging to see the huge contribution which employee ownership can make to the economy being given more attention through the Ownership Effect Inquiry, and in particular, to see Scotland's approach to growing employee ownership lauded as exemplary to the rest of the UK. The findings are testament to the considerable and focused work being done by CDS to grow the employee ownership sector in Scotland, and the substantial economic and social benefits it can bring."
Deb Oxley, CEO of the Employee Ownership Association, said: "The UK economy is imbalanced – between regional wealth, access to skills and ownership of capital – leading individuals to experience inequality in prospects and economic well-being, which in turn has an effect on personal motivation and corporate productivity.
"To address that imbalance we are calling on the UK Government to invest in capacity building for employee ownership that echoes the successful approach in Scotland, supported by trailblazing regional pilot projects focused on resilience and succession as well as a national strategy for business ownership."
The news came ahead of EO Day, a UK-wide celebration of the many benefits associated with being an employee-owned business. Led by the Employee Ownership Association, with Co-operative Development Scotland promoting celebrations in Scotland, employee-owned businesses were encouraged to share their EO Story, including what they love about being employee-owned and some recent business successes.
Stewartry Care, a care at home provider which became an employee-owned business in 2004, saw its turnover increase by 16% in the first year and profitability by 39%. Since then the company has continued to grow and was recently awarded Scotland's Care at Home Provider of the Year at the Scottish Care Awards and Outstanding Social Enterprise at the Dumfries & Galloway Business Awards.
Dyce-based Woollard & Henry, which manufactures paper forming products such as dandy rolls, the cylindrical mechanism used for imprinting watermarks in paper, became employee-owned in 2002 when Scotland's once-thriving paper sector was in decline. The 20-strong workforce embraced the opportunity to keep the business going, and following the design and implementation of an ambitious diversification strategy, the company now employs 64 people. It operates from five locations across the globe, going from almost zero international trade to exporting 60% of its output. It also recently won its largest contract to date, which will increase this year's turnover to over £10million.
ENDS
For further information, commentary or photography, please contact the CDS team at Smarts Communicate on 0141 222 2040 / 07970834354 or email cds@smartscommunicate.com
Scottish Enterprise
is Scotland's national economic development agency and aims to deliver a significant, lasting effect on the Scottish economy. Our role is to help identify and exploit the best opportunities for economic growth. We support ambitious Scottish companies to compete within the global marketplace and help build Scotland's globally competitive sectors. We also work with a range of partners in the public and private sectors to attract new investment to Scotland and to help create a world-class business environment.
Follow us on Twitter at
http://twitter.com/scotent
Follow us on Facebook at
http://www.facebook.com/scottishenterprise